Rio de Janeiro (Brazil): a city full of contrasts (1/2)
Oi, tudo bem?

We are finally in Rio de Janeiro! Our small passage in Foz do Iguaçu did not make us realize that we were on the Brazilian ground because too close to Argentina. But this time, yes! We hear the accent carioca everywhere around us, we are well in Brazil!

Part 1: Travel Diary
Part 2: Practical Tips
Part 1: Travel Diary
Note : The last time our luggage went through a Brazilian airport (in transit from Bolivia to Paraguay), my luggage was very badly treated: padlock ripped off and bag searched (0 loss fortunately). I realized this because my stuff moved around. So, this time, for our trip from Buenos Aires to Rio de Janeiro, I wrapped my bag with an ugly rain poncho, so that nobody will want to search it. And my bag was indeed returned to me intact. Take care of your stuff! There is another airport to be careful, even if you just pass in transit: it is the one of New Delhi (same, search or even steal your stuff).

In spite of a small problem on the plane (a little boy kicking me in the back, whose parents aren't at all conciliatory, forcing me to leave my seat near the window for another seat); everything goes well for the rest: we have our luggage first, we pass immigration in 20 seconds and we take a bus to Copacabana without waiting.

My first attempt to communicate with the SIM card saleswoman failed completely. She understands what I am saying but I don't understand her instructions. But I will not be intimidated by this first experience. Anyway, I have only been learning Portuguese for 10 days.
Day 1 : Snatch and grab flight in Copacabana
We take the bus 2108 of the company Premium Auto ônibus which is just at the exit of the airport (16 reals/person). It takes 1h30 to reach Copacabana. We have time to observe the various districts of the city, including the poor districts.




The bus drops us at the Copacabana beach (it stops on request along the way from the airport to Zona Sul), one block away from our guesthouse/hotel.

We are greeted by the janitor who informs the cleaning lady by phone of our arrival. The cleaning lady welcomes us, shows us the poster where all the main information is written and gives us the keys. Again, I don't understand anything she says.

Brazil in general and Rio de Janeiro in particular are considered dangerous. Our Apple products will never be released in public places here. We take the bare minimum to explore the neighborhood where we are. 2 blocks away, we find a nice restaurant. JB orders a churrasco without knowing that he will be served a huge dish. As everywhere in Brazil, the caipi are strongly dosed. My attempt of communication in Portuguese with the waiter is a success! One pays by credit card (90 reals) by paying very carefully (the cloning of cards is a plague here).




On the way to the money exchange, we pass several Havaianas stores. The official store sells them in the 33 reals, while other unofficial stores can go down to 14 reals. Nothing to do with the prices in France (18€ to 30€ per pair).




We know that the Copacabana beach is considered dangerous especially during the week, where there are only favelas inhabitants and tourists. JB takes a rotten phone bought in Nepal and a few pennies to pay for caipi/coconuts. As we only intend to walk and not to swim, we thought that we could be a little more relaxed. ERROR!




The Copacabana beach is beyond my imagination. It is very very beautiful! Some palm trees grow along the promenade and the fine white sand is very pleasant. I already love Rio de Janeiro! How good it feels!

Copacabana beach isn't made for swimming: the waves are much too strong, and the water is warm or even cold. I understand better why Brazilians go to Uruguay, the water in Uruguay is a bit warmer. Anyway, I was told that the locals don't swim, they come to soak for a few seconds and then relax on their chairs doing "people watching". I'm putting a picture of Getty Images because we didn't dare to take our phone out too often. In real life, it really looks like this.




There are many kiosks along the beach, selling drinks, renting chairs/parasols (apparently the good rental price is between 7 and 10 reals, and coconut 6 reals). There are a lot of street vendors as well, there are plenty of them crisscrossing the beach with caipi and cocktails in hand, it makes you want to!




It is said that (1) robberies (2) and the impressive number of street vendors are the two most unpleasant things on the beaches of Copacabana and Ipanema.

Speaking of stealing, we are walking quietly for 3 minutes along the walk when a guy passes on the left of JB on his bike and rips something off. Everything happens so fast that by the time I see him, I know it's already too late. By the way, we look at each other for 2 seconds (the thief and us), the guy holds something in his hand, I turn back to JB and ask him if it's his wallet that he has. JB answers me no… and he realizes only a few seconds later that he has lost his gold chain. We left everything at home, except the gold chain! And we are so amazed by the speed of the guy that we don't even have the reflex to shout or run after him. Anyway, what can we do? Chase him while running in flip-flops while he's on his bike ? Attack him and risk getting stabbed?

It isn't an ostentatious jewel, it is so discreet that we don't think about it anymore. JB's hat covers her neck, the guy must have been watching us for a long time to spot it. We don't feel super comfortable now. It's true that people have been watching us a lot since a while, but I also stare at them to make them understand that I know they are watching us… but the guy on the bike, I didn't see him coming. Suddenly, my visible pouch worn over my shoulder, containing only 20 reals, seems to be more ostentatious than ever. I was told the story of a guy tanning on the Copacabana beach, his head on his T-shirt. After his nap, he woke up and the shirt was gone. I'm not afraid of losing money or objects, I'm afraid that someone might pull on the cover and I'll find myself face down on the ground with a few teeth missing.

By the way, a teenager next to us, noticing our presence, is making weird signs to his buddies 10m away. It's suspicious! It is necessary to get out of here! We cross the avenue immediately to return to the hotel, a little traumatized by the events.

And yet, I prepared myself to be stolen in Brazil. Everything we took with us to the beach, we were ready to lose them. For a little while, we exchange our dollars, even those hidden in the belt, by telling us that like that, if we are stripped, at least we will have spent a big part before 😀 ahaha

JB is very upset. It is the baptism chain that his grandmother gave him and he has been wearing it since the beginning of his life. With the departure of the round-the-world tour, the question of whether to leave the chain in France or not was raised. And we agreed to leave the gold medallion (with JB's date of birth on it) in France and take the chain with us because the medallion seems more sentimental to us. I remember asking JB if he could be hurt in case of a snatch and he answered that this chain was made for babies and that it opened as soon as you pull on it. So JB's neck is a little red but he didn't feel anything.

We spend a lot of time wondering where we screwed up. Thinking about it, we tell ourselves that it's not as bad as being surrounded by a bunch of thieves and being completely stripped. Because we also forgot to hide our engraved wedding rings and it would have made me sick to lose them.

We barely dare to leave the guesthouse in the evening, we just take 2 steps to buy a pizza to go to the restaurant on the right side of the guesthouse.
Day 2: Christ the Redeemer
After the traumatic event of the day before, one decides to rebuild one's confidence in life by being even more cautious. I hide my wedding rings, wear only a silver ring and put 15 reals in my pocket (only to give to thieves if they need it – it's not very realistic to go out without money, they might think we hide them somewhere else). JB takes his rotten smartphone bought in Nepal and just enough for the day. We hide another 100 reals and 100$ in his belt. I take a cloth bag to put a map of the city. We are ready to lose all this. And from now on, it will be UBER or TAXI.

Our Uber drops us off at Paineiras Corcovado (25 reals a ride), from where the (paying) buses leave for Christ the Redeemer (38 reals per person). We arrived at 11 am, the first buses leave at 12 am. During this time, we eat a little bit in the café next door. Everybody spends his time there too, taking pictures of the beach of Ipanema that we can see from far away. But no one notices the Christ at the top left.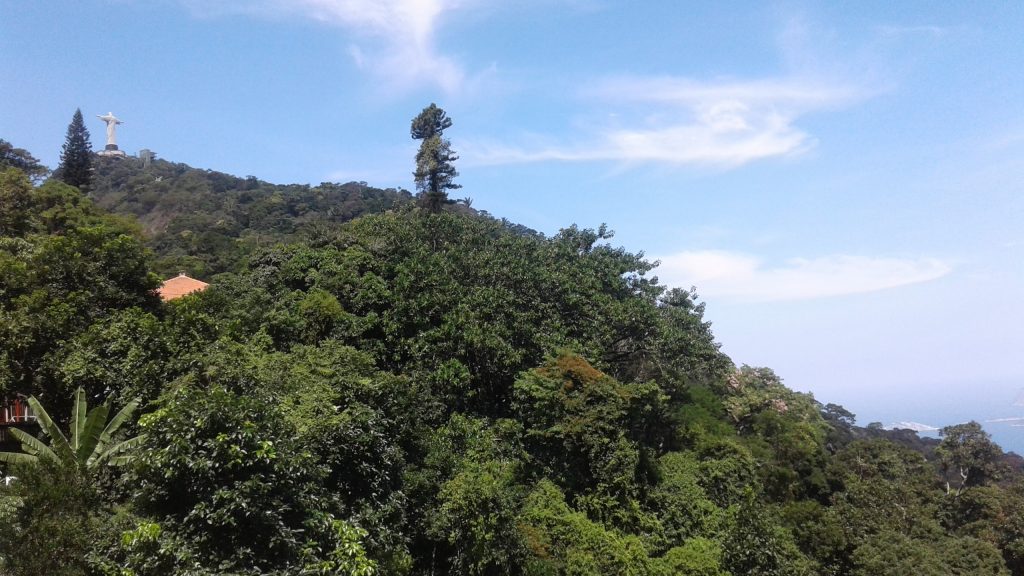 10 minutes by bus later, we arrive at the top of the mountain and we have to climb a few more steps to reach the status of Christ. Since it is classified among the 7 wonders of the world by an independent company, everybody comes to see it… and to admire this kind of landscapes (click to zoom).

Copacabana Beach in the middle – Ipanema Beach on the right. A breathtaking view!




Christ is greater than I thought. Behind the statue, there is a small chapel closed to the public.




However, the ratio "expectation vs. reality" is very high.

What we thought we would see




What we saw




Black of the world! Yes, there are yoga mats on the floor so that tourists can have the best angle to take a picture of themselves with Christ. Ridiculous!

Here, like Uyuni, you can't see the horizon, the sea melts with the sky, but that's just because of the pollution …

i wanted to be photographed with my favorite beach: Ipanema. I'm being called a "pain in the ass" by a French woman because I stayed a little too long admiring the landscapes here, preventing her from taking her 100th selfie of the day.




It is said that the head of Christ is often in the clouds, so one should look at the weather forecast before going there. It was thought that Christ was dominating the city and could be easily seen from the city (at least some blogs said so). But no, it's like the Eiffel Tower. At the top of the Eiffel Tower, you can see everything, but you can't see the Eiffel Tower from any street in Paris.

From the platform, you can see an area like "razed" or burned. In fact, they are just favelas, not very high and in contrast with the beautiful buildings next door

After an hour of visit, we take the bus to go down to PaineirasCorcovado and then a Uber to return to the hotel.
Day 2 bis: Ipanema Beach, Zaza Bistro & Garota de Ipanema
Around 5:00 pm, we take an Uber to go to the beach of Ipanema. Strangely, there is no direct public transport between Copacabana and Ipanema, and by taking an Uber Pool, we pay only 7.5 reals for two.

Again, we don't take our phone out so I'm putting here a picture of Getty Images. The beach in real life is more beautiful than in the picture.




We come here to see the sunset on the right, at 6pm but there are too many clouds so we see nothing. Many young people come to play soccer, the level is impressive! They can juggle long moments without the ball touching the sand. Even the girls are super talented. I understand better why Brazilian players are so technically strong. After years of training like that at the beach, they can only be legendary. Uber's driver tells us that Leblon, on the right side of Ipanema beach, is a bit nicer and safer, but we are tourists, we prefer to go to Ipanema beach, not Leblon ahahah.

Night falls very quickly and we hurry to walk to the Garota de Ipanema café-restaurant to have a caipi.

Who doesn't know the song "The Girl from Ipanema" (Garota de Ipanema)? The song is inspired by a 17-year-old girl, Helô Pinheiro who lived in Ipanema. She used to pass by every day, on her way to the beach, in front of the Veloso bar (now called "Garota de Ipanema") whose composers were regulars. This is the girl in the picture:




The lyrics of this superb bossa nova song can be summed up as follows: "a tanned girl, between the flower and the mermaid, full of light andgrace but with a background of sadness, so she carried within her, on her way to the sea, the feeling of what is passing, of a beauty that isn't only ours – it is a gift of life that her beautiful and melancholic sack and permanent backwash". Unfortunately, the English version, for reasons of rhythm, removes this melancholic dimension from the girl, to project it onto the composer (Yes I would give my heart gladly, But each day, when she walks to the sea, She looks straight ahead, not at me). While the original version, in Portuguese, speaks of "A beleza que não é so minha Que também passa sozinha" (the beauty that isn't only mine, but also passes alone).
Since then, the name "Vinícius de Moraes" (the name of the composer) has been given to the street Montenegro where Heloísa Pinheiro lived, and the Veloso café is called Garota de Ipanema. The name of the song was also given to a public garden in the area.
So I went to this bar-restaurant (very affordable by the way). On the wall, there are a lot of newspaper clippings, a score and the girl's picture. Lots of people come to sing "Garota de Ipanema" in front of the restaurant, hoping for a tip, but they sing so badly..
à
next to it, there is a souvenir store where you can buy "garota de Ipanema" tee-shirts
For a tourist restaurant like this one, the prices are pleasantly mild and the drinks are delicious. Other visitors opt for mini-barbecues served at the table… it smells too good! But we have to resist because we booked the restaurant Zaza Bistro, one block away. It is a restaurant recommended by a former colleague of JB. The decoration gives to this restaurant a little popular side, but the prices are anything but popular.

We choose the dishes a bit by the piff and are very surprised by the refinement of the dishes. It's a "world cuisine", using organic ingredients, fair-trade… The bill is a big one (257 reals for two, or 77€, water and tip (12%) included – having left our credit cards at home, we are relieved to have brought enough cash to pay ahaha). Even if there are a lot of tourists, 50% are Brazilian.

I'mvery shocked by this contrast, between people almost starving to steal a T-shirt at the beach, and wealthy Brazilians jostling each other to eat in this expensive restaurant offering even a valet service (and a security guard watching the restaurant's surroundings).


Day 3 :
It is Saturday, it is going to rain this afternoon so we decide not to visit anything but to enjoy the atmosphere of our district of Copacabana. It does not remain us big thing any more of the 200$ exchanged 2 days ago. At this rhythm, we will not hold a long time. I am obliged to withdraw money in an ATM. I am very reluctant to use my card in Brazil, having heard many stories of fraud, card cloning… But sometimes you don't have a choice. I go to the Badesco bank (subsidiary of HSBC). It is open on weekends, phew! With Banco do Brasil, these two banks offer free withdrawals.

We want to withdraw 1500 reals. The machine tells us "counting the bills", then "recounting the bills" and then "the count is wrong, goodbye". Right? Por que é assim? We try again to withdraw 1000 reals this time from the machine next door, it's ok, the counting is correct, the machine only gives us small bills (50 reals), it's great! Since the snatch and grab flight the first day in Rio, I'm not serene when I have more than 50 reals on me. But we are lucky today, between the bank and our hotel, we cross 3 policemen distributed on this way, and a lot of Brazilians consulting their phone in the street. It must be safe at this precise moment.

We go to a restaurant by the kilo advised by the owner of the guesthouse. Restaurants by the kilo or at will are very popular in Brazil. This is an interesting option for those in need of vegetables because the salads here are better than in a normal restaurant.

This one is "good and cheap", according to the owner. Uh… I think this guy is a millionaire because it still costs 64 reals / kg. And the little we took weighs almost a kilo. The local restaurants/breweries sell dishes in the 20 reals.

I realize even more the contrast between the rich and the poor. If the owner of our guesthouse considers a plate in Brazil, not very full, costing 20€ "good and cheap" – it's normal that there are so many problems in Brazil #shocked




Another thing to point out: the velcros on the chairs to "protect" his bag from thieves. I attached my Carrefour shopping bag (bought in Buenos Aires – isn't it funny?)



We then spend some time at the supermarket to buy some food tonight and save some money. Attempt failed because instead of saving money, I'm super excited in front of the fruit section of Zona Sul. It looks like I'm in Vietnam, I find my favorite fruits at 7 reals per kilo (carambolas, super ripe guavas, dragon fruits and other fruits whose name I don't know in French). Prepared meals aren't sold here but at the Pão de Açúcar supermarket next door (13 reals per plate).




On the way back, we hear a big scream. It's a father yelling at his kid (maybe 5 years old) stealing money out of a street artist's hat. Pfff!

A must for any stay in Brazil: the purchase of Havaianas. Near our guesthouse, there is a store selling Havaianas from 13,9 reals (4€). (address: Av Nessa Senhora de Copacabana 420C). A bargain! However, this price is only for old and simple models. It's still almost given knowing that the price in France is minimum 18€. I chose for me a High Light pair, i.e. with a 3cm heel, it's a rare model in Europe and it costs a bit more: 30 reals or 9€ (whereas in France there isn't my size and it costs 34€). In the official Havaianas stores, you won't find these prices. They gave me other addresses where I can find even more models, and I will come back there before going back to France (Havaianas are excellent gifts for friends).




On this positive note, we end our first stay in Rio de Janeiro. It's raining for hours. I didn't know we could be cold in Rio 😀 We will come back in 10 days to visit the rest.
Part 2: Practical Tips
Budget & Tips
Those who tell me that Brazil is cheap… think twice because it's not true!
Accommodation : 139 reals/double room with private bathroom at
Copacabana Best Deal Guest House (which I recommend 100% – great location). It is recommended to book a hotel/guesthouse in Zona Sul for security reasons.
Transportation :

Plane ticket Buenos Aires – Rio de Janeiro: included in the round-the-world ticket
Airport – city center : Shuttle Premium Auto ônibus (16 reals/person) : number 2108 goes to Zona Sul (Copacabana, Ipanema)
Public transportation: the metro is much safer than the bus. But both are crowded so we prefer not to use them. It costs in the 3,6 reals/journey. Google Maps can help you for public transportation with real time bus schedules.
Uber and cabs are recommended for any trip to Rio de Janeiro. It doesn't cost much (12 reals for a standard ride up to 25 reals to cross the whole city). If you take an Uber Pool then it's as cheap as the city bus (7 reals per trip)

Communication: SIM card Claro 30 reals. A recharge of 20 reals gives JB 800MB and I don't know how many minutes of communication. The card must be activated by dialing *544# (instructions are in english)
Food: +10% tip otherwise it's not funny.

In churrascaria, churrascos (huge meat platters) can be shared by two for 36 reals. Salads from 15 reals (but there isn'thing to eat)
Restaurants per kilo: between 49 reals and 64 reals / kg. In general, when we aren't too hungry, we eat at least 1kg of food/meal. So be careful not to serve yourself too much, we aren't in a restaurant at will 😀
Drinks: caipi: between 10 and 15 reals. Limonada 9 reals.
At the beach: same price for drinks as in the restaurants. Coconut 6 reals. Rental of chairs and parasol: between 7 and 10 reals.
Water at the supermarket: 2 reals per 1.5 L (tap water stinks of medicine and is in no way drinkable). Moreover, there are suspicions that cases of microcephaly are linked to products added to water to kill mosquitoes, and not only because of the zika)
Chic restaurants: between 69 and 79reals/dish.
Supermarket: ready meals at 13 reals. Fruits in the 7 reals / kg. Lots of choices at the supermarket, so if you have time to cook, choose this option!

Visits :

Christ the Redeemer: 25 reals in Uber to Paineiras Cordovado and then 38 reals per person to go up to the top by bus (high season rates)
Safety brackets
I spoke with several drivers from Uber and all of them tell me that you have to go to the beach with the bare minimum: swimsuit and that's it. No phone, no money (or just enough to pay for the rental of chairs), no jewelry (ostentatious or not), no bag, no pocket. The police are supposed to be present in Copacabana and Ipanema, but in reality we haven't seen many of them. And you have to observe everyone. It's the mafia on the beaches, sometimes the vendors of the kiosks are also friends with the thieves and help them to steal their own customers!!
There are 4 types of incidents at the beach:

Bicycle snatching: this concerns jewelry (gold chains) and bags. Even bags with a shoulder strap can be the object of a theft attempt
Theft of business put on the sand. Whether you sleep next to it, or with your head above it, thieves are very fast. Some street vendors are actually thieves, stealing everything: glasses, towels, T-shirts… it's crazy! You can't ask your neighbor to watch your things either, because he can also be a thief in disguise 😀
Robbery by encircling the victim (with a knife or not): there isn't much to do there, except give everything you have. This type of robbery can occur in the middle of the day. If you really have nothing, I don't know, give your sunglasses.
Throw mustard on the shoes and offer to clean them for a monstrous sum: the best is to refuse and if the guys become insistent or aggressive, cross the road immediately and go back home.

Be aware that showers on the beach aren't free.
Other "at risk" moments :

Inside the cab: check that the doors are locked. Sometimes thieves open the door at a red light to steal the bag you put on your legs
Inside the restaurant: likewise, it isn't uncommon for thieves to run into a restaurant and steal your laptop from the table or your bag

Apple products are worth gold in Brazil, hide it! Get out your old Samsung!
The area around Paineiras Cordovado and Christ the Redeemer seems to be very safe (you can only go there if you have a car or if you go by cab) so if you want to show off your jewelry or your smartphones, this is surely one of the only places where you can do so
When using a credit card, you have to be really careful. And when there is a fraud it's several thousands of euros so don't joke about it (I personally know people whose card has been cloned in Brazil). Never trust an ATM 24/24 in the street, go to banks (Badesco or Banco do Brasil) with opening and closing hours. If you pay by card, ask the waiter to bring the machine to your table.
Exchange rates are very advantageous here (better than the official rates). I recommend Casa Universal – Cambio Viagens e Turismo in Copacabana.