Monte Alban, Alebrijes de madera, Cuilapam de Guerrero, Barro negro de Coyotepec – Surroundings of Oaxaca #2 (Mexico)
We continue exploring the surroundings of Oaxaca today with a guided tour. On the program: the archaeological ruins of Monte Alban, the famous colored wooden sculptures (Alebrijes de madera), an old convent and the black pottery of Coyotepec. We will take you with us, as usual.
Part 1: Travel Diary
Part 2: Practical Tips
Part 1: Travel Diary
This itinerary is one of the 2 most popular routes to explore the surroundings of Oaxaca. The 1st itinerary (towards Hierve el Agua and all the villages on the road) was done via bus and colectivo and we enjoyed our 3 days on the road too much.
This time, as transportation is less easy to organize in a single day, we decide to go through an agency. For 200MXN/person. We regret too much because it is super badly organized, 2 people from the agency harass me on Whatsapp to confirm different departure dates and destinations. The van comes to pick me up 40 minutes late whereas they called us from 8am to remind us the pick-up time, tourists who are in the same tour as us are badly awake and break everything (more details later). It is thus in a very bad mood that I start the day.
Monte Alban
We arrive at Monte Alban, which means "white mountain" because in winter the trees here are covered with white flowers and it looks like the mountain is covered with snow. This is where one of the two archaeological sites in the surroundings of Oaxaca is located. Monte Alban is only about 15 minutes by car from the city center and there are colectivos that leave from the south of the city if you want to go there independently.
Our guide is zopatheque. He is bilingual and switches effortlessly from Spanish to English. His explanations are rather interesting, which makes me forget the pre-tour inconveniences. He accompanies us to visit the site for 40 minutes (80MXN/entry/person, not included in the tour rates) and leaves us 1 hour on site to explore by ourselves. Geographically, the Oaxaca region is really in the middle of Mexico, and Monte Alban is in the center of this region, in the middle of the Pacific Ocean and the Gulf of Mexico. No wonder it was so populated in the time of the Zopathecs. The structures look simple but underneath there are complex water distribution networks and some ruins are placed in such a way that they are aligned with the sun at such and such a date.
The guide shows us the copal tree which is used to make incense. Remember this name because we will talk about it in another article.
Then he shows us another tree, with 3 drops of its sap – in a delicious soup – and it's finito for your worst enemies.
This tree has a name similar to Huāxyacac, hence the name of the region of Oaxaca (pronunciation: wa-kha-ka). The guide also shows us a fruit called zapoteke (not sure of the spelling), whose interior is brown. He explains to us that his people are named after this fruit (zapoteke) because they are "brown and sweet"
The sun hits too much (and there is no shade on the site), I'm happy to be equipped with an umbrella and to have spread sunscreen on my face. JB, equipped with only one hat, will end up with a red nose at the end of the day. If the ruins aren't very impressive in themselves (we visited far too many of them during our road trip at Christmas)….
….the 360°C view on the mountains is really worth it. The view is the best from the South Platform (make sure you go around the top of this platform).
It took us a whole day to find the same views in the Blue Mountains near Sydney at a very high price, but here, Monte Alban isn't only an economical choice but also very photogenic.
At 12:40 pm as planned, we all meet in front of the bus to leave to visit other things, but two Spanish-speaking tourists are missing. We wait for them again and again… and at 1:05 pm, we see them arriving like a flower. They understood 13h minus 20 = 13h20 ahahah
Alebrijes de madera : in Arrazola
We then visit a wood carving workshop – which JB calls "stop shopping". But me, I call it a "stop village of craftsmen". Here, they carve very nice things in a rather soft wood. They let them dry for about twenty days and then paint them. If the carving techniques aren't extraordinary (except for large pieces), the painting, even for small pieces, is extraordinary. The technicality, the precision, the choice of colors … are admirable. For a piece of 5x5x5cm, it already takes them half a day. We aren't allowed to take pictures of the store so I put the rare authorized pictures.
The same tourists on our tour – who confused 12:40 and 1:20 a few minutes earlier – get noticed again by dropping an entire basket of wooden hummingbirds. They are badly awake today. Results: several hummingbirds are without their wings. Fortunately for them, the wings are just inserted and not carved directly on the birds, so the store employee doesn't charge them for "broken" hummingbirds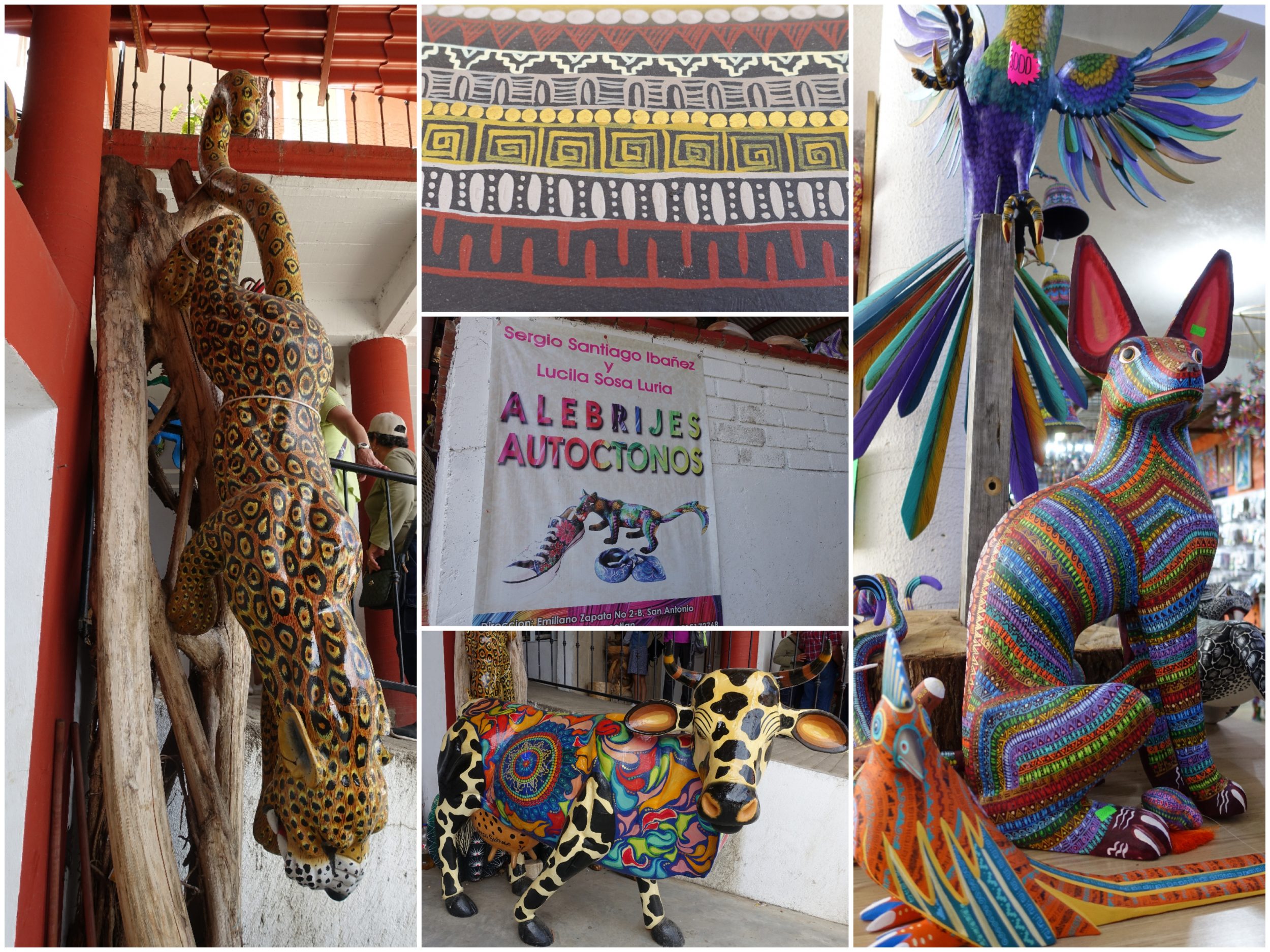 Buffet
This is the most expected stop of the hihihi day. We are taken to a restaurant serving Oaxaca specialties. Several people in Oaxaca confirm to us that their gastronomy is the best in Mexico – and that they can't eat well in other regions. JB and I refrain from making a comment – because we don't like the food here very much, so if they boast about being the best, you can imagine the level of Mexican gastronomy globally.
Besides, I still can't understand why there is so much praise for Mexican food. I tried to ask this question to expats and they confirm that only tourists, who stay for a few weeks, are happy to eat "exotic" food. In the long run, it gets tiresome: apart from guacamole and tacos… the rest is very medium and repetitive: we have the medium tacos version, XL and XLL, crunchy or not crunchy, corn in every way – but with different names.
What you must absolutely taste when you come to Oaxaca is tamale, a kind of stuffed dough that is steamed – it reminds me of the Vietnamese "banh gio", not so good of course. And the 6 moles (with different colors). They are sauces made with ???? (not remembering the names of the ingredients) that enhance the taste of rice and meat. The quality of the moles depends a lot on the person who prepares them. In this case: in this restaurant, it is very average, but we found a very good seller of mole negro in Oaxaca. Cost of the buffet: 150MXN + drink (15 to 20MXN) + tip
Cuilapam of Guerrero
This is the 2nd most expected stop of the day. I saw the pictures and it reminds me too much of the collapsed roofed convents in Panama and Lisbon. But here, the roof did not collapse at all because there was simply no roof.
Everything is open, there are 21 entrance doors and the guide explains that when the Spaniards arrived with their religion, they wanted to preach their faith but the natives, having never seen a vault in their lives, were very afraid to enter. So they made an open structure – so they wouldn't be afraid anymore – while keeping the vaults and columns.
The part at the back is supposed to be gothic and closed (and reserved for the Spaniards) but the architect was mistaken, the width is too small and and the main vault was never finished. As a result, there is no roof here either.
Barro negro de Coyotepec
We end this visit with a village specialized in barro negro pottery (black clay).
The manufacture is special because the disc isn't turned with the feet, but with the hand: to create the movement, two simple plates placed one on top of the other are enough. However, the black clay is supposed to give only a matt grey finish. In the 1950s, a potter named Doña Rosa discovered that she could change the color and shine of the pieces by polishing them and firing them at a slightly lower temperature. Just before the piece of clay formed is completely dry, it is polished with a quartz stone to compress the surface. And today we are visiting his workshop, many personalities have visited there as well.
We are admiring the numerous pottery objects when we hear a very disturbing noise: that of a broken object. A small glance and we discover that, bingo, it is still someone of our turn who has just broken a small sculpture. This time, it is really necessary to pass to the cashier, the person goes out rather well by paying only 100MXN. Having seen two breakages since this morning by the people of our group, we are already moving away from them – ahahha – and we are also moving away from the objects which seem to be expensive 😀
… at worst, one can always blame the cat – who doesn't seem to have woken up well either 😀
Part 2: Practical Tips
Budget
One day tour (transportation & guide only): 200MXN/person
Tip: 25MXN/person
Entrance to the ruins: 80MXN/person
Lunch: 150MXN/person
Drinks at the restaurant: 15 to 20MXN
Souvenirs :

carved wood : count 250MXN approximately
black pottery: count 100MXN approximately
Colectivo to Monte Alban
I don't know how to get to other places by colectivo but there is a van-colectivo from Oaxaca to Monte Alban (for about 30MXN), type Autobuses Turísticos Monte Alban on Google Maps to find the exact location. Regular departure between 8:30 am and 3:30 pm.
Other articles
Oaxaca and surroundings :
Mexico City and surroundings :