Oaxaca (Mexico): What to do? What to visit in 4 or 6 days?
After the Yucatan Peninsula, we wanted to rest for a while in the Oaxaca region, before continuing to CDMX (Mexico City). The colonial Oaxaca city of Juárez was chosen as a base because not only is it pretty, but also we will have a decent Internet connection. As we are digital nomads, we stayed there for 1 month, but the program below can be done in 7 days, taking plenty of your time.
There isn't much information about Oaxaca de Juárez, so this article will serve as both a travel journal and a practical guide, so that you can enjoy Oaxaca as much as we do:
How to get to Oaxaca de Juárez?
You can come by bus or plane.
If you come by bus: In general, tourists come from the following 4 main cities (I have put links to the busbud site to check the schedules)
If you come by plane, here are the prices and durations. Personally, we came by plane from Merida.
| Departure from | Price recorded | Duration | Link |
| --- | --- | --- | --- |
| Villahermosa | from 64€ on | 5h | sky scanner |
| Puebla | no direct flight | | |
| Puerto Escondido | starting at 82€ | 4h including a stopover at CDMX | skyscanner |
| Mexico City (Ciudad de Mexico) | from 35€ on | 1h10 | skyscanner |
| Mérida | from 69€ on | 1h45 | skyscanner |
Oaxaca Airport -> Oaxaca de Juárez city center
At the Oaxaca airport, you will see a huge queue for the shared van to downtown Oaxaca.
Just give the name of your hotel (or the address of your Airbnb), and you will be dropped off right in front for 90MXN/person.
Attention, only cash payment is accepted.
Oaxaca Bus Terminal -> downtown Oaxaca de Juárez
If you come by bus, you will surely arrive at the ADO Terminal which is located in Reforma, a kind of suburb of Oaxaca. To go downtown, simply take one of the yellow cabs in front of the terminal. There is no meter, but the drivers are quite honest. You can ask them the price before getting in, but the price is 70MXN to downtown.
Be careful, you should take a yellow cab and not a blue one. The blue cab, according to my Airbnb owner, is considered dangerous.
Transportation in Oaxaca
The city is rather small, you can do everything on foot or almost.
If you need to take a cab, take a yellow cab and ask for the fares before you get in. I find the fares a bit high (I have never paid less than 60MXN)
As for the colectivo to the villages next door, there are plenty of them, you just have to know where the colectivos leave from. For that, you can consult my dedicated articles (Hierve el Agua and Monte Alban) or ask at the tourist office just in front of the church at the Zocalo.
As for buses to more distant cities, you have the ADO terminal in Reforma, on the outskirts of Oaxaca, or the plane. So that you don't have to travel to Reforma to buy your
Where to stay in Oaxaca?
You should choose to be as close as possible to the Zocalo.
The south of the city should be avoided at all costs, especially the southwest, the worst place in the city.
One can walk without fear in the evening (just after a restaurant for example) but the city is deserted from 10pm, so don't come back too late.
Here are some addresses that we recommend, classified by price:
If you're a digital nomad, there's not much to choose from in Oaxaca on Airbnb. We were in a colonial house, the sun couldn't come in directly, we had to put the light on all the time to work, and we were cold all the time while it was super hot outside. So we preferred a house with an open terrace (ours was closed and it wasn't really visible on the pictures). To have a good Internet connection, and comfortable tables to work, it is better to opt for a coworking area
What to visit in Oaxaca
Recommended itinerary
Recommended program in Oaxaca and surroundings in 6 days
Day 1: Visit ofEl Zocalo, the Templo de Santo Domingo de Guzman & lunch in one of the markets. Afternoon: Printmaking workshop & walk around the city. Night in Oaxaca
Day 2: Participate in an indigenous purification ceremony: Temazcal (see the travel journal here). Lunch in one of the chic restaurants. Afternoon: Tasting of mezcal in a mezcalaria. Night in Oaxaca
Day 3: Visit of Hierve el Agua (and possibly the ruins of Mitla). Night in Teotilan del Valle
Day 4: Visit of the market. Weaving or dyeing classes in Teotilan del Valle. Night in Teotilan del Valle
Day 5: Visit of a mezcal factory. Visit the Tlacolula market, the largest tree in the world in Santa Maria del Tule. Night in Oaxaca. The travel diary of Days 3 to 5 is available here
Day 6: Guided tour to visit the ruins at Monte Alban, two artisan villages & an old convent (see travel journal) – count 200MXN/person, only for transportation + guide. Entrance and lunch are to be paid extra.
If you prefer a more intense program, here is the 4-day version
Day 1: Visit ofEl Zocalo, the Templo de Santo Domingo de Guzman & lunch in one of the markets. Afternoon: Printmaking workshop & walk around the city. Night in Oaxaca
Day 2: Participate in an indigenous purification ceremony: Temazcal (see the travel journal here). Lunch in one of the chic restaurants. Afternoon: Tasting of mezcal in a mezcalaria. Night in Oaxaca
Day 3: One day guided tour (count 200MXN/person, only for transportation + guide): Visit of Hierve el Agua, Mitla ruins, a mezcal factory and the biggest abre in the world in Santa Maria del Tule. Night in Oaxaca. The travel diary is available here
Day 4: One day guided tour (count 200MXN/person, only for transport + guide) : Visit of the ruins in Monte Alban, two artisan villages & an old convent (see travel diary)
1. El Zócalo
Note: to take pictures high up like me, go to the 1st floor of Tr3s 3istro Restaurant & Oyster Bar.
In Mexico, el Zócalo simply refers to the main square of the city. Oaxaca's main square is particularly lively, so you are NEVER bored. There are always lots of things going on: vendors selling organized tours, old people chatting, children playing, vendors selling drinks, pastries, fruit..
Just in front of the big church is the smalltourist office kiosk. I strongly advise you to go there to look for a map of the city and the region. They speak super good English and will be able to inform you about everything. Despite its central location, this church is rather disappointing. Its frontage is very beautiful but the interior is plain I find.
What I like very much is that from El Zocalo you can see the mountains from afar. This view reminds me too much of the one we had in Granada, Nicaragua.
The city is super pretty, there are plenty of superbly decorated stores and cafes, so take the time to explore and watch everything.
Following this pedestrian street, you will come across the 2nd thing to see absolutely in Oaxaca .
2. Templo de Santo Domingo de Guzman
The baroque exterior doesn't necessarily sell dreams, but you'll regret it if you don't visit the interior. Access is free, don't hesitate! Because inside, in spite of the busy decoration, every detail is meticulously executed. The whole remains harmonious, the 3D effect is surprising. Look absolutely everywhere, you will find very nice details here and there. This is the most beautiful church we have ever visited in Mexico.
3. Museum of Cultures of Oaxaca
JB & I aren't very much into museums but this museum is worth it, not especially for its collection, but for its building, the view we have… The entrance costs only 50MXN/person. There is a very large collection of masks, ceremonial objects, jewelry… of all kinds. Everything is clearly explained on the cards. If you have the courage to read everything, you can stay there for a whole day.
You have to look at all the rooms and explore each place because you often come across very nice surprises, like this view overlooking the botanical garden next door.
4. The markets
The most economical way to eat well is to go to the local Mexican market. Whether it is for a desayuno (breakfast) or lunch. Be aware that the desayuno here is huge and salty. It is the richest meal of the day for Mexicans. Restaurants and market stalls serve it until 1pm (at least). Lunch starts quietly around 2pm, but for tourists it can be served as early as 12pm 🙂
We have been in 4 markets in Oaxaca, we will rank them in order of preference:
Mercado de la Merced
Mercado Benito Juarez
Mercado Organico La Cosecha
Mercado de Abastos
Mercado de la Merced: this is our favorite market. It is local, small but has everything. You can access the "food court" part as well as the "basic ingredients" part. The products are super fresh, not expensive at all. It's super clean!
The specialty of Oaxaca is moles, of all colors. It is a sauce made with spices. The best is the mole negro. Often served with chicken and a little rice.
Mercado Benito Juarez: this is the local market where most tourists go because it is located a few streets away from the Zocalo. I find that it is less hygienic than the Mercado de la Merced because everything is mixed. Right next to the raw fish, there are restaurants of ceviche, or tortas. We have the bad smells, but also an uncool view on the raw ingredients. Moreover, there isn't so much place to sit down, and the prices are higher than what we see in Merced. The neighborhood is very lively too, so watch your wallet. But at least it has the merit of being local
Mercado Organico La Cosecha: I'm not sure why it's called Mercado, it's more like a foodcourt for tourists. Those who are afraid of the tourista can go there because everything is super clean and the hygiene is impeccable, the vendors are instructed to wear gloves at all times and not to touch money with the same glove (they will take it off or hand out a basket to receive money).
The positive point of this "market" is this stand that sells chocolate from the Incas: meticulously prepared with a special tool that is used to beat the milk, and then carefully heated on charcoal
Everything is clean and well prepared here, but the taste isn't at the top either. The ceviche is full of ketchup, the tacos are 2 times bigger than usual (it's fine), the hot chocolate is very good, but the dessert is bof bof. In short, it's quite expensive, touristic… but it's trendy and we can take nice pictures.
Finally, the Mercado de Abastos is very big and really super local but is located in a crappy neighborhood. I advise you not to go there.
---
Then you have regional markets, a treat for the 5 senses, in the outskirts of Oaxaca, the biggest being Tlacolula on Sunday, but if you can't be there for Sunday, here are the dates of the regional markets :
5. Engraving workshops
It was while walking by chance in the street that I discovered many engraving workshops in the city. The creations are extraordinary and you can find prints (colored or not) of all sizes. Some workshops give engraving lessons. Here, they don't do acid etching but hand engraving, on wood or some kind of soft plastic. The courses last about 3 hours. You have to come with a printed model of about 15x15cm, and after 3 hours you will be able to do your engraving and make prints. The courses cost in the 300MXN. Here are the workshops that offer courses, think to contact them before to book (you can find their contact details on Facebook and Google Maps) :
Hoja Santa
La Chicharra
Cooperativa Grafica
6. Tasting of Mezcal
Mezcal is like tequila but made in a traditional and manual way in small farms. A kind of Denomination of Controlled Origin. In the Oaxaca region, the conditions are ideal for growing agave, the key ingredient of mezcal. Thus, you will find many mezcalerias in Oaxaca, offering mezcal tasting sessions, coming not only from Oaxaca but from other Mexican regions. The list isn't limited to these mezcalerias , but here are some addresses:
In Situ
Mezcaloteca
El Destilado
Cuish
Los Amantes Mezcaleria
7. Temazcal Purification Session
We talked about it in a separate article, you will find the contact information there as well. It is the equivalent of a "sauna/hammam" in the indigenous way, i.e. with natural ingredients, a very bearable heat and a shaman who leads the session. You can have private or group sessions, have a bathing suit on you or take it all off, it's up to you.
This is one of the incredible experiences and a must do when you come to Oaxaca. The region still has a lot of indigenous people, the experiences are authentic and enjoyable. Plus, it eliminates toxins, tensions. You feel like you're floating on a cloud afterwards. That's why I advise you not to plan visits after such an experience, but to rest, you will be exhausted!
---
The points of interest below are outside of Oaxaca but are offered in the day tours. You can also get there by colectivo or bus
8. Hierve el Agua
The petrified waterfalls of Hierve el Agua (literally "the water boils") is a must stop. You can visit them in a day guided tour but we have explained here how to get there by bus & van. There are a few small swimming pools on the spot, the water isn't boiling but a bit warm. It is advisable to be there before noon so as not to be out of daylight. The surroundings are just as beautiful, that's why we wanted to go there by ourselves to enjoy it as much as possible.
9. The ruins of Mitla
There too, you can visit them during a day tour with Hierve el Agua, or go there by bus. These ruins are small but there is a column supposedly able to give you the date of your death. All you have to do is hug it. It has been damaged so much that it is protected now, so you won't be able to know the future 🙂
10. The village of Teotilan del Valle
It is a village of craftsmen, specialized in wool dyeing and weaving. You can visit it during a tour (with Hierve el Agua) or you can go there in colectivo from Oaxaca. I took a dyeing course there. I find the course expensive for what it is, but if you opt for a weaving course, it will cost less and you will have at least one handmade souvenir to take home.
The market of this village is also very interesting, we ate the best torta of Mexico. Attention this market is only open in the morning. Monday, this market becomes much bigger, the sellers of other villages come here also. More info here
11. Visit of a Fabrica de Mezcal
There are many manufacturers of Mezcal around Oaxaca. Just type "fabrica de mezcal" on Google Maps and you will find plenty of them.
The city of Santiago de Matatlan is the most interesting of all, you can for example go to La Curva. However, to get there you need either a car or a cab (10 minutes) from Mitla.
A fabrica very accessible (by bus and colectivo) just on the roadside, that I recommend you and where we went is Mezcal El Rey de Matalan. They explain you the manufacturing process, even if you are alone. The prices are higher than in Oaxaca, but you don't have to buy anything.
12. Visit to the market of Tlacolula
This market is open every day but is particularly surprising and lively on Sundays. You can't visit Hierve el Agua, El Tule etc… and the Tlacolula market on the same day (the agencies don't offer it), but if you have a car, it is possible to combine everything, it's up to you. If you come by bus or by colectivo, count half a day to do and see everything.
This is my favorite market in Mexico. The colors, the smells… are so exceptional. The prices are much lower than in Oaxaca, you can find for example ripe mangoes at 15MXN per kilo (less than 1€). If you have time, I advise you to spend at least half a day here, on Sunday of course ! We have visited dozens of markets in Latin America, this one has been able to show us a lot !
13. The del Tule tree
It's supposed to be the biggest tree in the world. It doesn't look too much on the pictures but on the spot it looks like it is.
We went there in colectivo because buses don't stop there. It's not a must stop, but if you don't know what to do with your day, why not.
This stop is often included in the tour Hierve el Agua, Teotitlan, Mitla….
14. Monte Alban Ruins
On the other side of Oaxaca is Monte Alban (White Mountain) and its ruins at an altitude of about 3000m. The pyramids here aren't very impressive but the view of the surroundings is very satisfying. The day tours offer the visit of these ruins with two artisan villages and an old convent (see our travel diary here)
However, you can also go there by colectivo, but it will take a little more time than a guided tour.
15. Cuilapam of Guerrero
The peculiarity of this convent is that it has no roof. Not because the roof was destroyed, no, it was designed like that… so that the natives wouldn't be afraid to go there. This visit is proposed with the one-day guided tour to Monte Alban.
16. Barro negro de Coyotepec
This area is known for its black pottery. The manufacturing is special because the disc isn't turned with the feet, but with the hand: to create the movement, two simple plates put one on top of the other are enough. However, the black clay is supposed to give only a matt grey finish. In the 1950s, a potter named Doña Rosa discovered that she could change the color and shine of the pieces by polishing them and firing them at a slightly lower temperature. Just before the piece of clay formed is completely dry, it is polished with a quartz stone to compress the surface.
Type Doña Rosa Coyotepec on Google Maps to find the exact location. This village is a stop proposed in the Monte Alban tour.
17. Alebrijes de madera : in Arrazola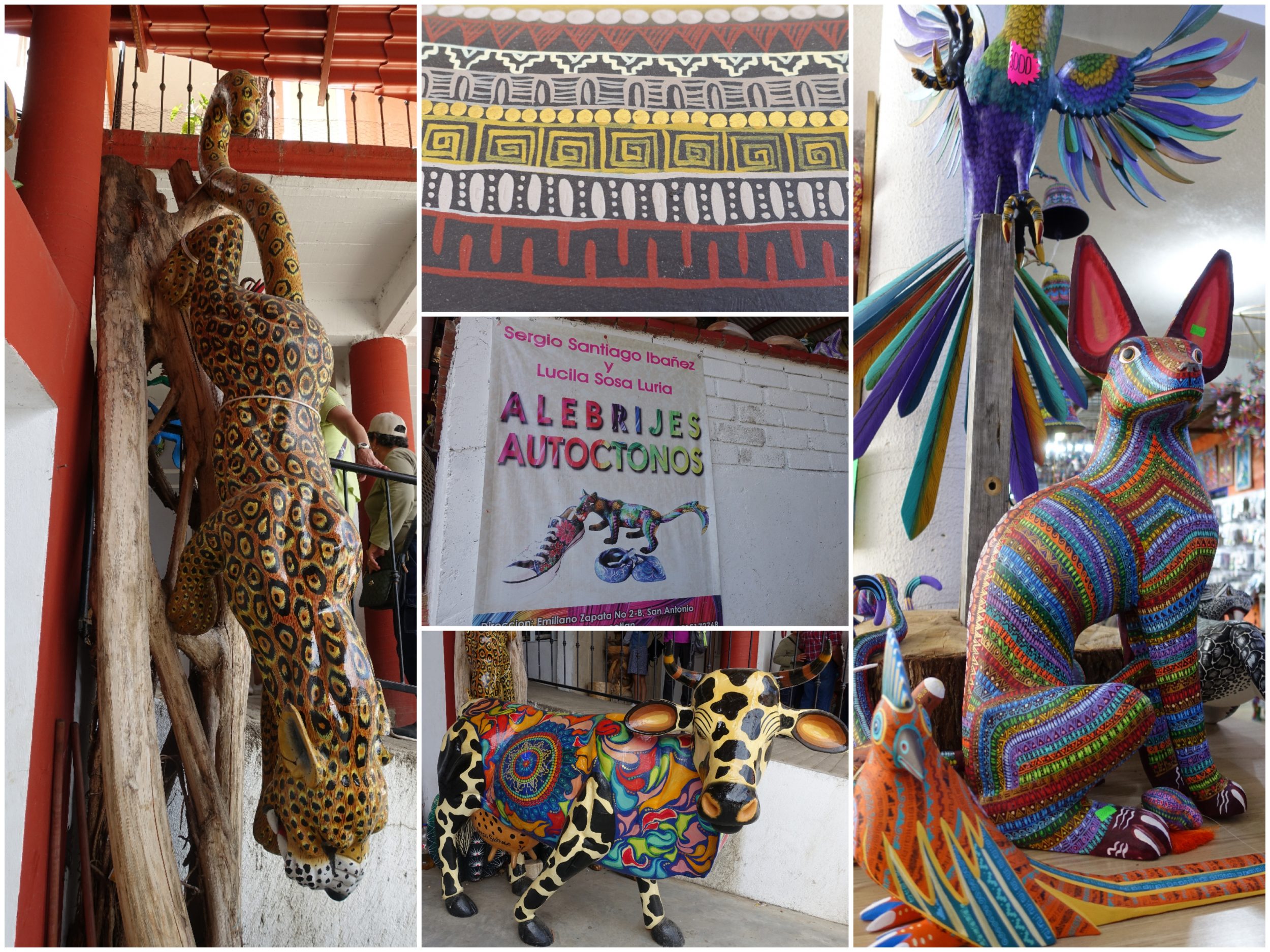 Here, they carve very nice things in a rather soft wood. They let them dry for about twenty days and then paint them. If the techniques of sculpture aren't extraordinary (except for the big pieces), the painting, even for the small pieces, is extraordinary. Thetechnicality, the precision, the choice of colors… are admirable.
There are several artisan villages offering these wooden sculptures but we went to Arrazola more precisely, and this is part of a stop on the Monte Alban guided tour.
Guided tours from Oaxaca
We only took a one-day guided tour to Monte Alban. Prices vary from agency to agency. It can cost 150MXN as well as 250MXN per person, without any difference from one agency to another. In general, these rates only include transportation and guide. You pay the rest: entrance fee, breakfast (if any), lunch and even tip for the guide (count 10MXN to 25MXN depending on your satisfaction and generosity) so always take cash with you on these excursions.
Avoid the flyers handing you flyers, we went on a tour with one of them and I was harassed on Whatsapp for days! They wanted to make sure that I booked at the agency, that I paid at the agency…. to get their commission. Anyway, go directly to an agency, it's better that way.
Here are the travel diaries of things you can do on a guided tour in one day :
Here are other tours that you will find all over Oaxaca. Be careful, I don't know this agency, I just took a flyer from them. Their rates are higher than the others.
Right click to save the picture and zoom.
You can also consult the tours offered by viator (a brand of Tripadvisor) here
Where to eat in Oaxaca?
As I told you earlier, the markets are the best places to eat cheap and local.
However, the markets being closed in the evening, you have several addresses, tested and approved by myself (it is a guarantee of quality because I am extremely difficult).
Unfortunately, there aren't many Mexican restaurants because I can't tolerate this cuisine for more than 2 weeks
Chocolate mayordomo: to taste the maya chocolate (preferably hot), but don't eat here, just take a drink (count 30MXN)
Boulenc : organic/trendy restaurant, a bit French but not really (apart from the pastries, there isn'thing else French). There are always a lot of people in front, don't be intimidated by this crowd, give your name and wait 15 minutes until a table is free, count 200MXN/person minimum
Tr3s 3istro Restaurant & Oyster Bar: one of the only addresses where you can eat fresh oysters from Mexico. Count 300MXN/person
San Pablo: Lebanese / Mexican restaurant: to fall, everything is good. Count 300MXN/person. My favorite drink there is a cocktail made of tamarind and chili. Not everybody likes it, but I love it!
Tastavins : Spanish tapas, you can find Serrano ham, good cheeses… from 30MXN/tapas. An alcoholic drink = a free mini tapas
Expendio Tradicion: Mexican restaurant, their torta is to fall (homemade bread, very tasty). Accounts 200MXN/person
Dururu Korean Restaurant: their barbecued pork is quite similar to what I tasted in Korea. It's not perfect, but it's one of the few Asian restaurants in the city. Accounts 150MXN/person
Where to get a facial in Oaxaca?
I did not have the opportunity to test many treatments in Oaxaca unfortunately. The only treatment I did was in Reforma, on the outskirts of Oaxaca, at Kutanea. The institute is run by dermatos but you don't have to go through dermatos. You have to make an appointment by phone (I tried via Facebook, but it didn't work). Nobody speaks English there BUT…
They offer Hydrafacial treatments for only 75€, with SkinCeuticals products! Ah ah! Well, the treatment isn't as luxurious as what I got in Canada, but for half the price, at least the effects are the same.
---
Did you like this article? Share it on Pinterest. You will also find other articles and practical advice on Mexico by clicking here
Other articles
Oaxaca and surroundings :
Mexico City and surroundings :