Road trip in Mexico #1: Chichen Itza, Ik Kil, Valladolid, Ek Balam, Cenote X'canche
This year, we chose Mexico to spend our Christmas vacations: 17 days of roadtrip by public transport (bus, colectivo). OK, there is a smallcar rental for 2 days and some cabs, but we had a lot of fun. If you followed the adventure on our Facebook and Instagram page, here is the blog version.
Part 1: Travel Diary Part
2: Practical Tips
Part 1: Travel Diary
Day 0
We fly from San Salvador to Merida (Mexico), with a stopover in CDMX (Mexico City). I strongly advise you, if you take the same flight, to pay for a seat near the window on the right side, because I could see all the best spots of Central America passing by before my eyes. Seeing the gigantic Mexico City from the plane is an incredible experience too.
Arrived at the airport in Merida, we take the prepaid cab (turn right when leaving the airport), for 200MXN. The Uber option would have cost less (about 120MXN) but I'm not sure they have the authorization to pick us up here. We spend the night in Merida at the Hilton Garden Inn Merida (link Booking). The reason we pay for a night at Hilton is so that we can leave our two suitcases (and our expensive computer equipment) without worrying for 2 weeks. Not only is their locker service free of charge for guests, but also the room is very comfortable (the Italian shower does a lot of good because for months in Central America, it is rare for us to have a hot shower and / or with a good pressure). At the end of the roadtrip, we were able to recover our luggage intact.
---
Why start roadtrip in Merida? Simply because the plane ticket to Merida was the cheapest that day hehehe vs. Cancun. And then, starting from Merida allows us to start with the most touristic places (like Chichen Itza) and finish with the less touristic ones (like Uxmal).
Why take a roadtrip by bus? Because the bus network is very good in this country, it will allow us to save money, and JB will enjoy it more instead of spending all day behind the wheel.
Day 1 (December 19): Chichen Itza, Ik Kil
Chichen Itza
We start our roadtrip in Mexico with a small backpack each. 1st visit: Chichen Itza, the most touristic place in Yucatan. This site is part of the 7 new wonders of the world (we visited 4 others: Machu Picchu, statue of Chris the Redeemer, the Great Wall of China, the Taj Mahal) so we had a little wait/apprehension. Millions of tourists come to admire this ancient Mayan-Toltecan city every year, and as Christmas is the most touristic period, we have to wake up early and take the bus at 6:30 am from Merida to Chichen Itza. It is the 1st time that we take the ADO 1st class bus that everybody talks about, it is less comfortable than the buses in South America, but the bus is on time and clean.
2 hours later, we arrive on the site and there are already many tourists, who came by rental car (fortunately the big tourist buses aren't there yet). We pay 481MXN per person (card payment accepted), it's a lot of money for Mexico (23€ vs. 5€ for the other ruins). We should have left our backpacks at the locker room. Instead of choosing a guide, I buy a paper guide at the souvenir store of the site (100MXN). We hardly have the time to walk when we fall face to face in front of this structure.
On the plan, it is indicated that next to the entrance, there is a mini-pyramid too… so we hesitate a lot. Is this one of the 7 wonders of the world? or is it the mini-pyramid? People talked about a very high pyramid, is it this one? Sorry to appear jaded but in my imagination, it must have been as big as the small pyramid in Egypt (Mykérinos, 63 meters). In the end, it was THE pyramid that everyone is talking about: Kukulcán Pyramid (25 meters). Before, one could go up to the top but for the preservation, it is now forbidden to climb on anything in Chichen Itza.
Now with hindsight, this remains the best preserved (or renovated) of the ruins we visited in the area, with a completely uncluttered environment (not overgrown by trees), rounded edges, some motifs that have remained intact, this story of a temple built on top of an ancient temple…. and construction techniques superior to others (including the perfect positioning so that the shadow created during the equinoxes resembles a descending snake, cf YouTube – the pyramid being dedicated to Kukulcán, the feathered serpent god of Toltec origin). These are details that aren't super visible to the naked eye, but that deserve an expert eye to appreciate them at their true value. Nevertheless, the other new wonders of the world have enchanted us more than that (except the statue in Brazil).
In front of the pyramid, several guides clap their hands and encourage the tourists to do the same. Indeed, the echo gives a funny noise: duck, poultry?? no! the guides talk about a flapping of the quetzal's wings (how beautiful!).
Suddenly we hear strange noises. It sounds like an animal growling, it is a very disturbing noise. We will understand later that they are souvenir vendors who imitate the typical noise of howler monkeys, using an instrument resembling a small candlestick.
We then observe the Warrior Temple (inaccessible to the public). At the top, zooming in, you will see the Chac Mool, a half-lengthened human statue whose function is to receive human sacrifices (the hearts of the sacrificed victims). Next to it are thousands of columns, once carved, each representing a warrior, but you can't see much anymore.
The part I like the most is the one next to the observatory, because the sculptures are still very well preserved. You can be sure that you are in Mexico with such motifs 😀
After a few stops here and there, we pass by to see the Cenote Xtoloc, intended to supply the city with water. We find finally the mini version of the main pyramid, very pretty with the body and the head of the snakes super well preserved.
Then we cross the whole area to go and see the Sacred Cenote, where human sacrifices took place. Men and mainly children were thrown there alive, during the drought period, to be sacrificed to the gods.
We return to our steps and the platforms of Venus, Jaguar, Skulls etc. have more sculptures, some perfectly well preserved. It isn't impossible that real skulls of the killed and decapitated warriors were piled up on this same platform.
A huge field follows, dedicated to the game of Pelota (ball game). There are 2 holes on both sides of the wall and apparently you have to pass the ball through these holes. I didn't understand all the modalities (me and the sport eh), but this game would have ritual meanings, and the captain of the losing team is beheaded (but apparently it was an honor so he shouldn't complain about it). Note the sculptures in the middle of the field which are still well preserved.
Well, after these bloody stories, we take a last look at the Great Pyramid of Chichen Itza, before being invaded by hundreds of tourists coming on tour from Cancun/Tulum/Playa del Carmen. A French tourist we met there told us, sulking, that she had paid 150€/person for this tour from her all inclusive hotel in Playa del Carmen. With a French-speaking guide for 30 people, the lunch not good and a Mayan show in an unknown cenote. Poor thing, if she knew, she would have paid a small colectivo to Tulum (45MXN) then a bus to Chichen Itza (266MXN) and then the entrance. Total cost: 1103MXN (or 52€ return).
Tip: to find your way around the site, pre-download the map on Maps.me. The signs on the site have been half erased.
Note: I was appalled by the consumerist tourist side of Disneyland in this part of the country. We had just spent a few wonderful months in Colombia and Central America where we were almost the only tourists for miles around. Here, on the contrary, we hear French and Chinese spoken everywhere, we see the selfie sticks again, we are amazed to see tourist buses unloading hundreds of tourists at the same time; see the prices of tours and excursions OUT OF PRICE; pay 10%-15% tip at each meal, negotiate, stay on guard, be the target of small scams at every street corner, … these aren't quiet vacations, especially at Christmas time, and especially not in this area.
Cenote Ik Kil
We then discover the cenote Ik Kil (80MXN), a second ultra tourist destination because it is the most beautiful of the peninsula. Then, promised, we leave the areas besieged by visitors. We go there by cab, the rate is fixed: from Chichen Itza, it will be 80MXN, not one peso less. For 5km. If you are more patient, wait for the colectivo marked "Chichen Itza" at the parking lot, it passes every 45mn-1h, and stops at Ik Kil too.
This site looks great on the pictures but it isn't at all in the middle of nature (concrete dominates the surroundings), contrary to what the pictures suggest. Let's play the game of the 1000 differences: Expectation vs. Reality.
Waiting / Photo Instagram
Reality: yes it's concrete all around!
I was remarked that it looked like a municipal pool ahahhaa well, it's quite true! Even the smell looks like the smell of chlorine / humidity of a municipal pool !!! The locker rooms are at the top though, and the guards are there to force everyone to rinse themselves before swimming. There are lockers to rent (small ones, in the 40x55cm, not enough for a suitcase) for 30MXN, and life vests to rent for 30MXN. For an unknown reason, while the changing rooms are free and rather clean, some prefer to change on the spot without taking a shower, and cover themselves as they can while the space in front of the cenote is barely 5 square meters.
Seeing an oily layer of sunscreen & sebum floating on the water disgusts me. A tourist passes in front of me, and despite the obligatory shower, she smells as bad as Vietnamese fish sauce – this worries me a lot for the quality of the underground water in Yucatan ahahah – since the cenotes are linked and form an underground river here. Plus the water is cold for me so I don't go swimming. On the other hand, JB takes full advantage of the stairs on the side, allowing you to take a few dives into the water which is 50 meters deep from a platform of about 4 meters. The water is too deep for snorkeling to be interesting. There is a rope in the middle of the cenote for people to hang on and not drown (better). It is marked everywhere that it is forbidden to cling to roots or plants.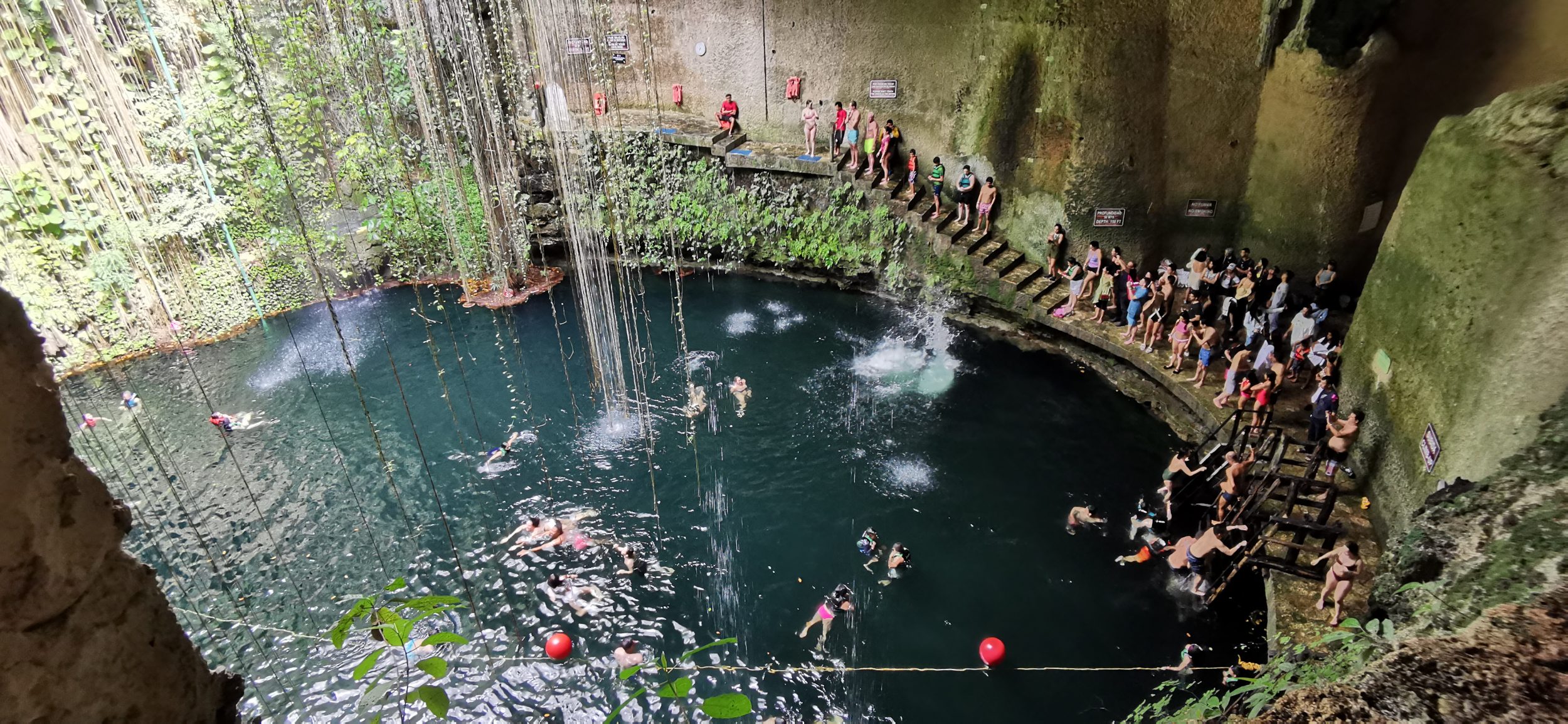 Well go, I put you a picture Instagram way otherwise one will think that I have a tooth against the tourist office of Yucatan. In Vietnamese, we call it "sống ảo" or "virtual life" to designate places that are too beautiful in pictures but too disappointing in reality – or people who lead a miserable life but who show crazy pictures on social networks thanks to Instagram places.
To better enjoy this cenote, many people advise to sleep in the city near Chichen Itza (to enjoy in addition to the sound and light show in front of the pyramid), and come to the cenote around 9am (opening hours of the Ik kil cenote: from 9am to 5pm)
We wait for the colectivo on the main road (it serves Valladolid, Dzitnup – on request, Ik Kil and Chichen Itza). It passes every 45 minutes to about 1 hour. Lucky break: there are still 2 places left (35MXN/person) and in barely an hour we are dropped off in Valladolid. All this Disneyland side tires us and instead of enjoying Valladolid, we just walk straight to our hotel, eat and rest, when it is barely 2pm.
Day 2 (December 20): Valladolid
Valladolid & Cenote Zaci
The receptionist of our hotel Hostal Las Cruces (link Booking) is super nice and was able to give us all the information we needed to discover Mexico. He has the address of all the colectivos leaving from Valladolid, the prices of all the ruins, the timetables of the second class buses etc. I took pictures of his travel guide and I will put them at the bottom of the article. We take advantage of some free time to go around Valladolid, a very small colonial city but not so quiet as it is because it is invaded by tourist buses in the morning.
You will see on the pictures that we left with very little luggage, just 2 small backpacks for 17 days of roadtrip. If it happens, I will also emanate, at the end of the trip, the typical smell of the lady with fish sauce from the cenote Ik Kil ahahahahha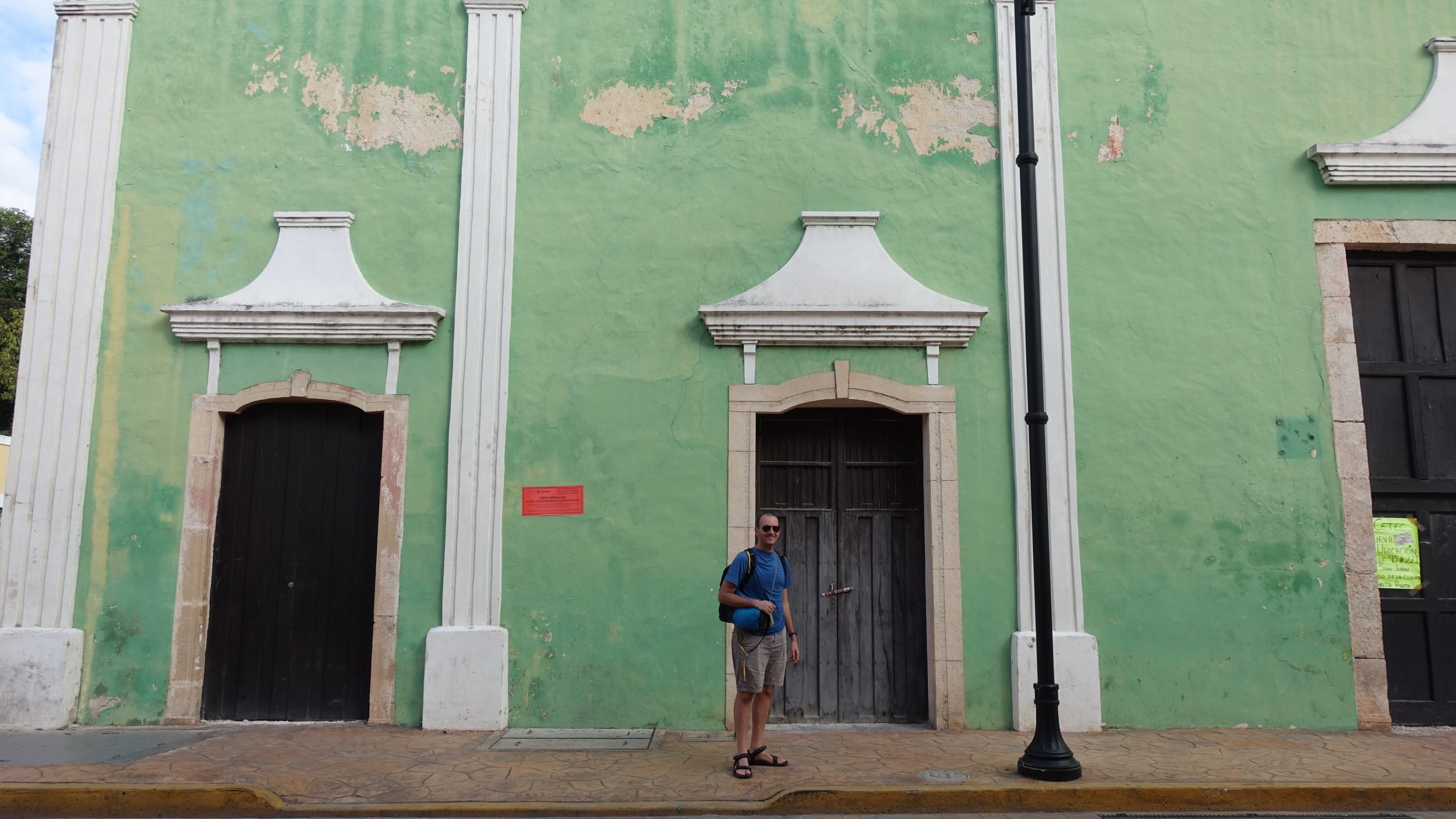 We discover with joy the cenote Zaci (30MXN), more local and authentic, despite its location in the middle of the city of Valladolid. There is no infrastructure on site, except a restaurant. It is therefore necessary to change discreetly in a cellar. The water is very deep but blue. There is an unnatural waterfall (the water is pumped and a pipe creates a false waterfall) but all this is forgivable. Beware this cenote is part of a tour Chichen Itza – Zaci (tourists do not swim there) – Valladolid so go before noon.
A few brave people climb up here and jump. On the other hand, you have to be sure of yourself, the fall can hurt.
Ek Balam
Following bad advice, we leave for Coba, but we should have gone to Ek Balam instead. Besides, there are colectivos that lead there from Valladolid from 40MXN/person (roughly 200MXN the race to be divided by the number of people) – between street 44 and 37. As we turned around to go to Ek Balam on the 3rd day, I put Ek Balam's travel notebook here, so it's more logical – especially for people who want to get inspiration from our notebooks to organize their trip.
Ek Balam is only about 30 km from Valladolid, but the towers don't go there, although I love these ruins very much. I think one of the reasons is its exorbitant price: 413MXN, for very small ruins (vs Chichen Itza which costs 481MXN). So much the better, there will be more room for us. Here, payment is only in cash, and fortunately we have some – because the nearest ATM is 20km away. We are in the middle of the jungle and have to follow a small path to reach the ruins. It's not scary at all but it's always impressive to think that we are in the jungle and can fall on any wild animal, there, right away (snakes among others).
The set is small but the advantage is that you can still climb on the structures and have an incredible view of the surroundings.
Especially from the main structure! Very high and hard to go down but the views from below, from above, in the middle… are worth it. The parts with sculptures are protected by the roofs, the whole remains very harmonious.
From the top of the main structure, the other lower structures are clearly visible. I hear a guide next door explaining that there are no mountains here, all that protrudes from the trees is a Mayan pyramid. It seems that the ruins of Coba can be seen from here but where exactly?
The descent is more difficult, some go down on the buttocks. I hold on to JB while looking straight ahead. The difficulty isn't the height, but the slope of the steps, at about 45°C. Fortunately, it has been well renovated and the steps are very regular.
There are several levels where you can rest a little and observe the sculptures that are still well preserved.
Coming out of the ruins, there is an arrow to the Cenote X'canche.
Cenote Xcanche
You have to either walk 2km, rent a bike or pay a tricycle driver. We opt for the tricycle, just to contribute to keep the job of the locals. There is a package including several activities (rappel, zipline, zip line…) but we didn't take it. During 30 good minutes, we have the cenote just for us, the luxury! It is very deep, between 3m and 50 meters I believe. Except the stairs, we cannot sit down anywhere, a rope is stretched in the middle of the cenote to hang on and rest. One realizes that without human intervention, it is difficult to have small all green plants all beautiful around the edge as in Ik Kil. But here, we have roots of very big trees that we wonder how they still hold on so as not to fall into the water. This cenote looks a little bit like Zaci but prettier and less crowded. I like it very much!
The cat fishes of about 10cm are very numerous and aren't afraid of anything. Even when JB does some dives nearby, they don't even deign to move.
Here, I didn't bathe either because this depth scares me very much (the "cold water" argument – even for JB – doesn't encourage me either). The changing rooms are simple, there are toilets (without shower on the other hand) on the spot and you can rent life vests for 30MXN. I didn't see any lockers though, there are hammocks on the spot to rest. The return to Valladolid is done by colectivo, there are several waiting in the parking lot. Otherwise, you can privatize it for 200MXN.
What can I say except that the ruins of Ek Balam and its cenote gave me back my faith 🙂 that in Mexico, in the heart of the most touristic area of the country at Christmas time, there are still some super quiet places.
From Valladolid, you can also visit the cenotes Dzitnup or Suytun in colectivo (see the practical advice section to know the place of departure). We visited Suytun and will talk about it in another article.
The continuation of our adventure in Mexico is here
Part 2: Practical Tips
This travel diary is a record of our 17 days of roadtrip in Mexico (Yucatan, Quintana Roo, Chiapas). You can consult the itinerary, the Google Maps and the detailed budget here
Transport info
How to get to Chichen Itza

From Merida: Take the Bus ADO Merida – Chichen Itza. You can buy the tickets online and pay with PayPal e.g. (I haven't tried with VISA, Mastercard): departures at 6:30 am; 7:15 am; 8:15 am and 9:15 am. Duration 1h50. Departure at 6:30 am recommended. 156MXN. Attention there are several ADO terminals in Merida, you leave from the Centro Historico terminal
From Cancun: Take the Bus ADO Cancun – Chichen Itza. Duration 3h20. Departure at 8:45 am. 243MXN Attention between Cancun and Chichen Itza, you change time zone (1 hour less)
From Playa del Carmen: Take a colectivo to Tulum (45MXN) or an ADO bus to Tulum (88MXN). Then take a bus ADO Tulum – Chichen Itza. Preferably at 09h05 from Tulum (duration 2h35). 266MXN. Be careful between Playa del Carmen and Chichen Itza, you change time zone (1h less)
From Tulum: bus ADO Tulum – Chichen Itza. Departure at 9:05 or 14:45. Duration 2h35. 266MXN. Be careful between Tulum and Chichen Itza, we change time zone (1 hour less)
From Valladolid: Take the ADO first class bus (9h50, 10h15, 15h30 – duration 50 minutes, 124MXN), or a colectivo (which can be found here, Google Maps coordinates, 35MXN) or a second class bus from the ADO terminal which leaves every 30mn

How to get to Ik Kil

From Chichen Itza : either take a cab (80MXN, fixed fare), or take an olectivo Chichen Itza – Ik Kil : Meeting at the parking lot, it leaves every 45mn-1h
From Valladolid: Take a colectivo (found here, Google Maps coordinates), 35MXN

How to get to Valladolid :

From Chichen Itza : take a colectivo Chichen Itza – Valladolid : Meeting at the parking lot, it leaves every 45mn-1h for 35MXN
From Ik Kil: take a colectivo Chichen Itza – Ik Kil – Valladolid: RDV on the main road, it passes every 45mn-1h for 35MXN
How to get to Ek Balam from Valladolid : Take a colectivo between calle 44 and calle 37.
Price Info
Transportation:

Merida Airport – City Center (prepaid cab) : 200MXN
Merida – Chichen Itza (ADO bus): 156MXN
Chichen Itza – Merida (ORIENT bus): 115MXN (2020 fares)
Chichen Itza – Ik Kil (cab): 80MXN
Ik Kil – Valladolid (colectivo): 40MXN/person (2020 rates)
Valladolid – Chichen Itza (colectivo): 40MXN/person (2020 rates)
Valladolid – Ek Balam (colectivo): from 40MXN/person for the outward journey or 200MXN if you privatize the vehicle

Entrance fees:

Chichen Itza: 481,497MXN – card payment accepted (2020 rates)
Deposit for bags: 120MXN/bag (2020 rates)
Guided tour Chichen Itza: 400MXN in Spanish or 1200MXN in French (2020 rates)
Cenote Ik Kil: 80MXN – life vest rental 30MXN – locker 30MXN (recommended)
Cenote Zaci: 30MXN
Ek Balam: 418MXN
Cenote X'canche : 80MXN (entrance + tricycle) per person

Hotel

in Mérida

we recommend Hilton Garden Inn Merida 60€ per night (link Booking). We chose it especially to entrust them with our luggage during our 2 weeks roadtrip. They have a locker and agreed to keep our luggage free of charge (while we only stayed one night). The hotel is a little bit out of the city but is located in a shopping center (no problem to find restaurants)
we also recommend Gamma Mérida, 35€ per night (Booking link) in the city center, less classy but well located. Locker service, gym, swimming pool & WiFi at the top

in Valladolid: we recommend our hotel Hostal Las Cruces 23€ per night including breakfast (link Booking), with a top receptionist and a simple but fresh breakfast, which does a lot of good. I left my paper guide in French of the Chichen Itza at the library if you are interested 😉
More info
Locations of the colectivos in Valladolid. The colectivo for Bacalar isn't indicated on this diagram, but you will have no trouble finding it by asking a local. Right click to save the image. The prices have not been updated either, count between 5MXN and 10MXN more.
Schedules of the "second class" buses from Valladolid, which also leave from the ADO terminal in Valladolid. Please note that these timetables may be subject to change (weekday vs. weekend schedules), it is better to ask for confirmation beforehand. The last 2 photos (in red) were taken at the bus terminal in Valladolid, they are more reliable than the document made by the hotel. Right click to save them and zoom in.
Other articles
Road trip in Mexico #1: Chichen Itza, Cenote Ik Kil, Valladolid, Cenote Zaci, Ek Balam, Cenote X'canche (current article)
Road trip in Mexico #2: Cobá, Mayan Ruins & View from the top of its pyramid Nohoch Mul
Road trip in Mexico #3: Tulum, Playa del Carmen & the Cenotes (Car Wash, Gran Cenote, Xunaan-Ha, Cenote Azul, Cenote Suytun)
Road trip in Mexico #4: Sian Ka'an, Dream Beach, Dolphins & Turtles
Road trip in Mexico #5 : Bacalar, Los Rapidos, les Cenotes & Cocalitos
Road trip in Mexico #6 : the Ruins of Calakmul, at the end of the jungle
Road trip in Mexico #7: Ruins of Palenque, Misol-Ha and Agua Azul Waterfalls
Road trip in Mexico #8 : Campeche, Ruins of Uxmal & Merida
Oaxaca and surroundings :
Mexico City and surroundings :