[Travel Guide 2020] 15 days of Roadtrip by Bus in Yucatán (Mexico): Itinerary, Budget, Transportation, Practical Advice
Here is the recommended itinerary for a 2 week road trip in Mexico. At the beginning, we wanted to rent a car but the destinations we are targeting are very well served by buses and colectivos, so we preferred to use them to travel in a more economical way.
This itinerary is part of our +2 month stay in Central America.
To optimize the cost, we land in Merida (instead of Cancun, the classic arrival city from France) from San Salvador (El Salvador), then we will have our luggage kept in a hotel for 2 weeks (hence one night in Merida, to justify leaving our luggage in the l uggage room). We left them at Hilton Garden Inn Merida 60€/night (link Booking ) for free.
Then, we will leave each one with a very small bag and take buses and/or colectivos.
Finally, we will go back to Merida to pick up our stuff.
If you start from Cancun-
either get off ASAP at Playa del Carmen (bus Cancun Airport – Playa del Carmen) and then take a bus to Tulum to follow the itinerary in the following order: Days 4 => 16 + Days 1, 2 then 3-
either spend a night in Cancun, then go to Chichen Itza on day 2, follow the program: day 2 => 15 then go back to Cancun (more tedious, not recommended)
---
Abstract
The bus company we take c'est ADO, with very comfortable buses, many tourists recommend it. You can buy the tickets in advance, online (payment by credit card or Paypal)
If the schedules do not suit us, we take local buses (second class), whose schedules aren't always indicated online. Or colectivos, an even more local solution.
We buy the bus tickets the day before for the next day.
Prices are indicated in Mexican pesos on bus ticket sales sites, even if they use the $ sign which makes you think of the US dollar.
When it comes to the US dollar, the $ sign has two bars or they write US$
The recommended route allows you to visit the most touristic places first (Chichen Itza, Coba, Tulum), and then the jungle (Calakmul, Palenque, Uxmal)
It doesn't look like it but the distances can be long, it is better to change hotel regularly and not stay in the same hotel for the whole stay
You will find l'itinéraire complet sur Google Maps. There are several layers (see how to use my custom Google Maps)
We have completely skipped Playa del Carmen, Holbox and Cancun – where water quality isn't always guaranteed (see more info on Sargasso).
For a relaxing vacation, we have integrated 3 days of rest / beach paradise in Tulum, where there is less risk of sargasso. A day of snorkeling and observation of wild dolphins in Sian Ka'an. The itinerary also includes some paradisiacal days in Bacalar, which is a lagoon, so there is no risk of sargasso.
Access to the beach is often privatized. It is necessary to pay a consumption, or a paying access. Keep this in mind because in this part of Mexico, the tourist is seen as a walking cash machine. Consult our estimated budget at the bottom of the article to have a small idea of the prices charged.
Don't take the excursions before coming here. You will see on the spot, the prices are almost divided in two (except for Sian Ka'an). There are many French-speaking guides on the spot. Don't pay 37€ for an excursion to Bacalar, the prices on the spot are only 12,5€ !
Take a tour of the agencies beforehand. The same thing can cost 300MXN at one and 500MXN at the other
To view all our articles on Mexico, click here
Part 1: Recommended Itinerary
Part 2: Estimated Expenditures
Part 3: Transportation in the Yucatan Peninsula and Other Tips
Day 1: Arrival in Merida. Night in Merida
Day 2 : Ruins of Chichen Itza, Cenote Ik Kil, Valladolid, Cenote Zaci (optional), Free Sound of Light at the Convent of San Bernardino of Siena (8pm). Night in Valladolid.
Day 3: Cenote Suytun (optional), Ruins of Coba. Night in Tulum
Days 4, 5, 6: Beach, Tulum Ruins. Nights in Tulum
Day 7: Cenotes near Tulum
Day 8: Day trip to Sian Ka'an (Punta Allen side). Night in Tulum
Days 9 & 10 & 11 morning: Bacalar, Los Rapidos, Cocalitos, Kayak, Swimming, Paddle… Nights in Bacalar
Day 11 afternoon : Bus to Xpujil. Night in Xpujil
Day 12: Ruins of Calakmul & Cave of the 4 Million Bats. Night in Xpujil
Days 13 & 14: Palenque, Ruins of Palenques, Agua Azul, Misol-Ha. Night in Palenque
Day 15 : Bus to Merida. Rest. Night Merida
Day 16 (optional): from Merida: Return to the ruins of Uxmal
Estimated budget: 828€/person in high season, excluding airfare to/from Mexico
Our travel diaries
Entrance fees 2020
Rate in 2020: 1€ = 21MXN.
Unless otherwise stated, these locations only accept payment in cash. The ruins of the Yucatan are quite dishonest. Despite their crazy prices, only Chichen Itza accepts payment by card.
Entrance Chichen Itza: 481 MXN, card payment accepted
Entrance cenote Ik Kil : 80 MXN
Zaci cenote entrance: 30 MXN
Entrance to the ruins of Coba: 75 MXN
Gran cenote : 200 MXN, 30 MXN the locker
Car wash cenote: 100 MXN
Tulum ruins: 75 MXN (be careful, the cash register does not give change, you have to make up the change)
Xpu Ha Beach: entrance 50 MXN. Entrance fee Refunded if consumption > 200 MXN per person
Cenote Azul: 120 MXN
Cenote Xunaan Ha: 100 MXN
Entry to Los Rapidos: 100 MXN
Entrance to Cocalitos: 35 MXN
Entrance to the Cenote Azul: 25 MXN
Entry to Calakmul: payment in 3 installments: 60 MXN, 72 MXN then 75 MXN
Ruins of Palenque: 36 MXN for the park, 75 MXN for the ruins
Agua Azul: 20MXN + 50 MXN
Misol-Ha: 10MXN + 20 MXN
Entrance to the ruins of Uxmal: 413 MXN
TOTAL: 2,306MXN per person or 110€
Estimated expenditures with this program
| | | |
| --- | --- | --- |
| Expenses | MXN | EUR |
| Transportation (Bus, shuttle & colectivo, per person) | 3,251MXN | |
| Transportation (Car rental for two, 2 days) | | 73€ |
| Accommodation (for two) | | 608€ |
| Tours, excursions (per person): Sian Ka'an | | 87€ |
| Entrance fee (per person) | 2,306MXN | |
| Food (per person) | 140MXN to 200MXN/meal | |
| TOTAL (per person), excluding air France – Mexico | | 828€ |
Excluding airplane, in December 2019, we are therefore at 828€/person, or 1 656€ for two (excluding airplane from France) for 16 days, 16 nights, or 103,5€/day on average for two
Of course, this budget can be revised downwards:
removing expensive ruins like Uxmal (saving 413MXN/person)
by removing expensive cenotes like Gran Cenote (saving 200MXN/person)
by taking the excursion to Sian Ka'an (savings of 87€ per person)
by replacing the hotels by dormitories (saving 5€/person per day) and by traveling out of tourist season (we were there for Christmas, I think the 608€ hotel could have been transformed into 450€ out of season, for two)
if there are 4 of you, be aware that hotel rooms often have 2 double beds. If you are 4, you only pay +30% compared to the rates for 2.
Our "Practical advice" articles
Transportation in the Yucatan Peninsula
Here are the transports available in the Yucatan Peninsula :
1/ Bus 1st class ADO
The 1st class ADO buses (pronounced A-de-o) are an efficient way to travel around the Yucatan Peninsula. They cover the important tourist sites. Some of them even stop right in front of the ruins (or at 5 minutes walking distance). These buses are for locals as well as tourists. The fares are affordable, so don't consider them "tourist buses", they aren't .
Moreover, many tourists prefer to rent a car or go through agencies. In December, Mexicans also travel a lot within their country and we backpackers were a minority in the ADO 😀 buses
The schedules of these 1st class buses are available on the ADO website. You can buy the tickets in any ADO station, or online without any problem (we paid with PayPal but did not test with our credit cards). They also have an app that works more or less well, I advise you to download it at least to check the schedules. The prices indicated (with the $ sign) are in Mexican pesos (here $208 = 10€). The US dollar would have been presented with 2 bars, or $US.
Once the ticket is purchased, you have a QR Code to show to the driver, no need to print them out. The seats are numbered, respect your assigned number.
You have ADO, ADO CONECTA, ADO AEROPUERTO… I admit I don't know the difference between these buses. But these brands are sold online, the timetables are online and there is of course a hold for luggage. ADO buses give a small "receipt" for each baggage deposited in the hold, which limits the risk of loss / theft.
The advantage of these buses is that they run almost non-stop, the ADO 1st class buses are on time (arrival/departure). The disadvantage is that you cannot ask to get off on the (logical) way. And the air-conditioning is always too loud (be sure to bring something to cover yourself!), they also put on films from time to time. The toilets on board aren't always well cleaned, so choose a seat in the middle of the bus (on the front = there are always children shouting. Behind: the stinking toilets).
ADO buses departing from/dropping off at the airport
Feel free to take ADO buses that can take you from the airport to the city center – or drop you off at the airport. This is especially interesting for Cancun, for example, where you are sure to get ripped off by cabs. Then, from the city center, walk or take a cab to your hotel, it will be cheaper.
Even if Uber exists, they cannot pick you up at the airport, only drop you off. So opt for ADO buses. It's safe, convenient and cheap.
Buses leaving from Cancun airport can even drop you off at Playa del Carmen, so you don't even have to go through the "scam in Cancun" box!
2/ Second class bus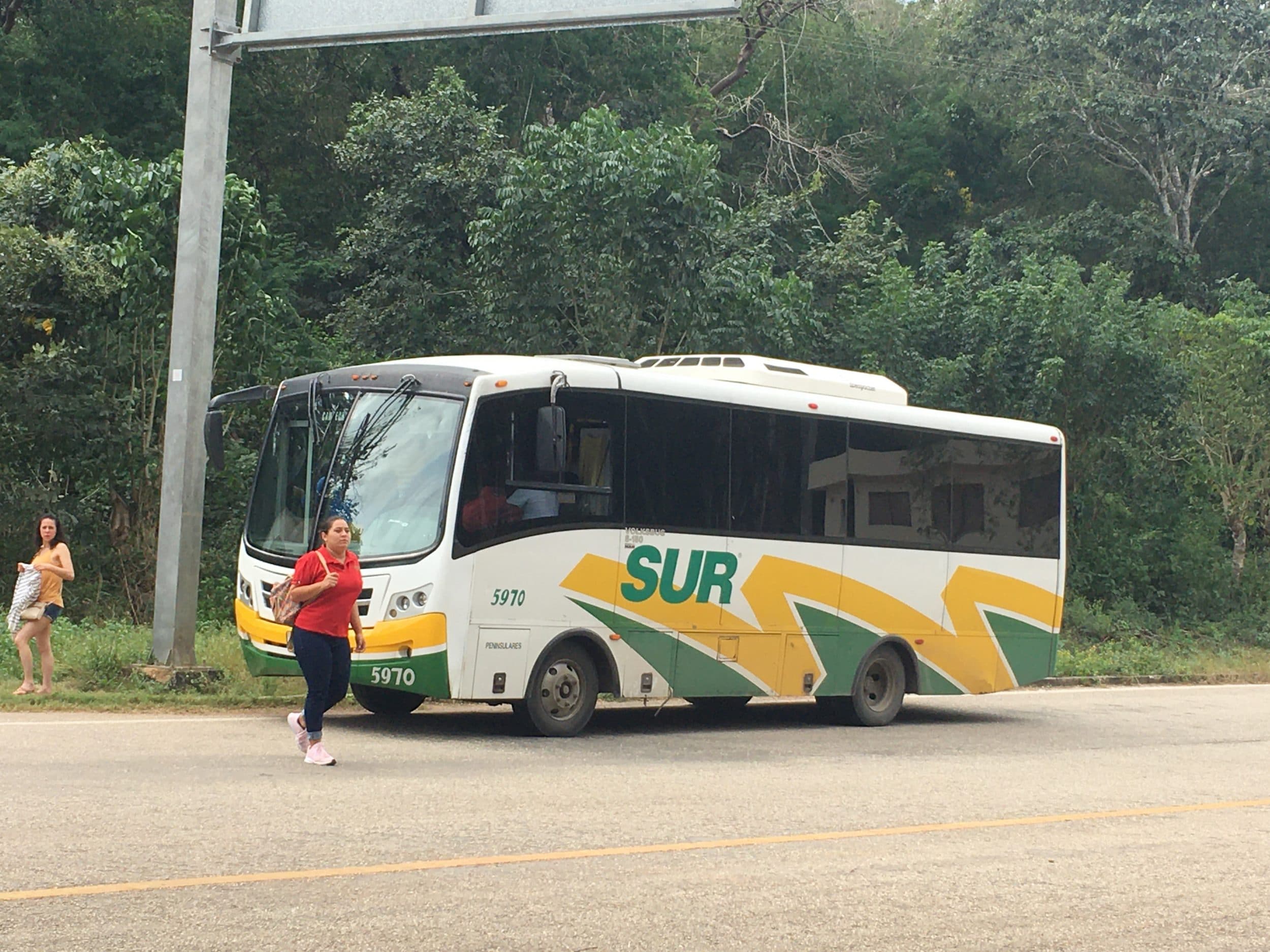 The 2nd class buses are branded SUR, ORIENTE, MAYAB, ATS…. Their timetables and prices aren't displayed online at all.
In the bus stations, they are displayed on the screens, like this (screen shot at the terminal in Valladolid). As you can see, they only show the final destination (Playa del Carmen for example) and do not indicate stops on the way.
The only way to get the exact schedule to a particular destination is to go to the counter at any bus terminal. And ask for the timetables. The vendors all have a screen that swivels towards the user and don't hesitate to take pictures of the timetables, everyone does. Here for example, I was in Campeche and I asked for the timetables of the buses leaving from Mérida 🙂 Everybody is very nice but only speaks Spanish, but ahahah
Thus, from any terminal, you can buy second-class bus tickets. They will give you a yellow paper ticket. When getting on the bus, you will have to show the ticket to the driver. He will then give you another white ticket, which you have to keep in exchange for your yellow ticket. The system is done this way because the driver can sell tickets himself – whereas first class buses only sell tickets at the ticket office.
These buses are called 2nd class because the seats are less comfortable and they make many stops. There are so many stops that the bus only stops if someone asks for it, remember to warn the driver a few hundred meters before (Maps.me and GPS are your friends), otherwise he will trace: you can shout "baja" (ba-khja). Be careful, he only stops at official stops. So if you want to stop a 2nd class bus on the way, ask where is the nearest stop to your destination.
These buses also have holds for luggage, but most of the time you have to open and close them yourself. If you get off at a stop on the way, you have to signal that you have things to pick up in the hold, otherwise it will trace. If you don't speak Spanish well, just make a gesture and say "maleta", he will understand.
Second class buses sometimes have a dedicated terminal, this is the case in cities like Campeche, Escarcega… Ask at the ticket office where your buses depart from.
2nd class buses cost half as much as 1st class buses, but take about 30% to 50% longer to make the same trip. They can be very late. Sometimes the seats are numbered, sometimes not. They can also accept that people stand for 2-3 hours. So if you see a full bus, don't be afraid to get on, people will try to squeeze themselves a little.
Bus network
Here is the 1st and 2nd class bus network, Caribbean Region.
Some additional tips
There is no screen indicating which bus has arrived. You should generally listen to announcements like: the bus leaving at 11:40 am for Tulum has arrived
It has already happened to us that some ADO buses have been cancelled, without being announced (this is often the case at the departures/to Bacalar). So always go to the ticket office 30 minutes before departure and ask if the bus is still running or not. Don't hesitate to ask 5 minutes beforehand to the ticket inspector if your bus has arrived because you can't hear the announcements at the terminal very well. In case of cancellation, they will offer you a solution: either a refund, or place you on a second class bus, or place you on the next bus. If ADO has no other alternatives, don't hesitate to ask if there is a colectivo, they are very nice and will be able to inform you. Many colectivos stop right in front of the ADO terminal.
Schedules often vary (there are often weekday and weekend schedules). So when you ask about schedules, it's best to ask for a specific day.
Here are ADO's repayment terms and conditions:
you can modify your tickets free of charge up to 30mn before departure. This is called Transferencia. If the new ticket costs less / more, you will be asked / refunded the difference
you can cancel your tickets free of charge up to 60 minutes before departure
even for a ticket purchased on the Internet, the refund can be made in cash
if you missed your bus, within 60mn after the departure time, you can buy another ticket and get a 50% discount on the same trip
for all these changes, you must show proof of identity and, if you booked online, give your e-mail address.
3/ The colectivos
Everybody talks about colectivos but if you have never been to Latin America, it isn't easy to imagine such a thing 😀
These are cabs, or vans of private companies, which organize transportation between a point A and a point B, in both directions.
In the case of vans of private companies, for the colectivo to leave from point A, it is generally necessary that it is filled. It will not leave otherwise. And on the way to point B, anyone can ask for a stop – anywhere on the way. And pay in proportion to the distance traveled. So just ask the driver how much he is owed and he will tell you how much to pay.
In general, the drivers are honest, we didn't have any bad surprises. The colectivos leave from a specific point and drop you off either on the way or at a specific point (you can't ask to be dropped off in front of your hotel if it's not on the way). There is a mini trunk at the back of the colectivo, but most of the time you travel with your bag on your knees. To stop a colectivo, wave to it and to be sure, ask if it stops at this or that place. Of course, you have to be on the right side of the road lol they often have the name of the destination on their windshield
In the case of colectivos cabs, they look perfectly like a normal cab and have 4 to 7 seats. And you can privatize it right away. There is already a fixed fare between point A and point B. If there are 4 of you, you divide this fare in 4. If there are only 2 of you, you divide this fare in 2. Basically, the departure time just depends on luck and your waiting capacity. For the colectivo cab Valladolid – Ek Balam for example, it is very easy to fill a colectivo cab, you just have to wait about 15 minutes. For Coba – Tulum as well.
The difference between colectivos cabs & a normal cab is (1) they leave from a specific point (2) they drop you off at a specific point. The trunk is quite big, but otherwise you will have to travel with your bag on your knees.
Where do colectivos start from?
To know the starting points of the colectivos, either ask the locals, or do a search on my site, or type "colectivo VILLE 1 VILLE 2" on Google Maps, some colectivos are listed on Google Maps.
Many long-distance colectivos stop in front of the ADO bus terminal. If your ADO bus is full or cancelled, most of the time you will find a colectivo passing right in front of the terminal (this was the case for our Bacalar – Chetumal trip).
To know the starting points of the colectivos of Valladolid, consult this article.
To know the starting points of the colectivos of Tulum, consult this article.
For the colectivos serving Sian Ka'an, consult thisarticle.
For the colectivos departing from Palenque, consult thisarticle
For Bacalar, the colectivos to Tulum/Playa del Carmen/Chetumal stop right in front of the ADO terminal in Bacalar.
Be careful, in some cities, colectivos are reserved for locals only. For example, the colectivo serving the hotel zone of Tulum is exclusively reserved for locals. Unless you have a Mexican look and a local accent, there's no point in waiting for it. It is decided this way to favor the scam of the cab trade, which will charge you 150MXN for the trip to the beach. You are warned!
4/ The Tuk-tuk
They were only seen in Escarcega. They are motorized, have two rather comfortable places, but I don't know how much it costs.
5/ Taxis (normal)
They often have predefined rates – it's marked on the windshield. This is more or less respected. Basically, cities are divided into several zones, and there are defined tariffs from zone 1 to zone 3, from zone 4 to zone 2 and so on. To be able to read these rates, you have to stand next to the driver in front and quickly decipher which zone you are in 🙂 The simplest way would be to ask for the rates from the locals and then confirm these rates with the driver. The "tourist fare/local fare" system applies in particular to Tulum and Bacalar: the locals gave us a fare half as much but no cab wanted to leave with these fares.
The solution would be to opt for cabs that are marked "cab metros": they will have a meter. But they are much less visible.
At the airport, take pre-paid cabs, you pay the fare (with a set amount) at the counter, and the cab will drop you off at your hotel, you don't have to pay anything else.
6/ VTC : Uber or Cabify
Uber exists in some cities (Merida, Cancun…) and is cheaper than cabs (use our code uberUBERTOP to get the 1st ride for free).
You also have the Cabify app (learn more and get a discount code here). I highly recommend these services. On the other hand, they aren't allowed to pick you up at the airport (but they can drop you off there).
7/ Car rental
Car rental is a juicy business. We just rented the car for 2 days and got ripped off for everything. From a daily rate of 20$US, with the insurance in addition, the weird exchange rate, the gas to fill at 1/4… it comes to us to 50$US in reality. WTF. So read our article before signing up for 2 weeks rental. 2 days is good to reach remote places (Calakmul or Mayan villages at the end of the jungle, or to make a tour of the cenotes, why not…) but the buses are very well served, numerous and on time. Why not take advantage of it ? more info about car rental
8/ Scooter and bike rental
Essentially to access the cenotes, scooters & bikes are recommended because the waiting time of colectivos just for a cenote can drive you crazy (especially if you have 3-4 to do during the day). For Valladolid and Tulum, some cenotes are accessible by bike, but you ride on roads equivalent to the highway so I strongly recommend you to rent a scooter.
Here are the rates observed in Tulum:
Scooter : 500MXN for 1 day; 650MXN for 24 hours
Bicycle: 100MXN for 1 day, 150MXN for 24 hours
Of course, you can be 2 on the scooter, but only one on the bike 😀
9/ Transport agencies
In the Chiapas area, security can leave something to be desired, so I advise against colectivos or car rentals for long distances. Use a transportation agency. They will take you to the tourist points, give you plenty of time to explore the place, there is no guide. You pay either the transport at all, or the transport + the entrance tickets (they don't earn anything on the entrance tickets, it's just to go faster, because if everyone has to find exactly 38 pesos in his wallet, it will take 1 hour to enter each tourist site). We used this service in Palenque. The company is called Tulum Transportadora turistica. Go out of the ADO terminal in Palenque and you will come across their agency, just on the left. You can check their website here and the fares below (January 2020):
Where to leave the luggage?
If you are coming from France for 2 weeks of vacation, I strongly recommend you to leave with a minimum of stuff (see our tips for light travel), which can fit in most of the lockers available in the ruins, or cenotes. If this isn't possible, some people leave them at their hotel, or drop them off at the ADO terminal (so instead of doing Merida – Chichen Itza – Valladolid, they will do Merida – Valladolid – drop off the stuff at the ADO terminal – Chichen Itza – Valladolid). Some ruins have lockers, but their size is quite small (about 30x30cm)
If you are on a world tour, you can leave your big backpack at the ADO Terminal. Please note that the locker room is often open to everyone, so this isn't a recommended option to leave your precious belongings.
If you are a digital nomad like us, and have to leave expensive computer equipment and big suitcases for a long period of time, you can book a night in a well rated and reputable hotel. We left our suitcases at the Hilton Garden Inn Merida (Booking link) for free for 2 weeks and picked them up intact. There is a deposit ticket for each piece of luggage, which of course you have to keep.
I know that many tourists simply leave their suitcases in the trunk of the car. This is the most dangerous place in Mexico. The rental cars are all white, of the same make and can be spotted for miles around. Unless there is a designated guard (i.e. paid parking), the risk of losing all your belongings is very high. They tend to empty the trunk completely, and sort it out afterwards, sometimes the guard and/or the police are in cahoots. We have seen tourists with a pale complexion because they have left their belongings (including their passport) in a parking lot in front of a busy restaurant to be able to swim. When they came back, the trunk was empty.
In any case, I recommend you:
to have your passport & credit cards & money with you at all times. We use this Eagle Creek pouch which has been following us around the world for 4 years. Eventually, buy one of these many waterproof bags to keep your valuables even if it looks ridiculous in the cenotes
never place your bags above your head on buses. The risk of theft and forgetfulness is very high. Either put them in the hold or keep them on your lap
never leave your bags in the trunk of the car. Take them out to drop them off at lockers (e.g. at ADO terminals), or leave them at the hotel. Or be prepared to lose them. To limit the risk if you can't do otherwise, when you park somewhere, don't open the trunk, otherwise thieves will see that there is something in the trunk and will be tempted.
in some parking lots, when you arrive, some young people will offer to watch your car against a "little tip". This is racketeering but accept and give them 20 pesos at the end, it's better than ending up with a flat tire or an empty trunk.
Beaches soiled by algae
The coast is no longer what it used to be. Don't be fooled by Instagram! I wrote a long article on algae, sargasso here. I invite you to read it.
To enjoy the paradisiacal beaches, I advise you to go to the South zone of Tulum (and book the closest hotel to Arco Maya), to Sian Ka'an (Punta Allen precisely) and to Bacalar. These areas have never been soiled by algae.
Recommended hotels
Here are the recommended hotels:
in Tulum

access to the beach is limited by many hotels. So either go to the Paraiso beach, open to all, or choose one of the hotels that overlook the beach: The Playa Xnacan Tulum hotel (148€, link Booking), or the Nest Tulum hotel for example (200€, children not accepted, link Agoda) can be good choices
for an economical option, I advise you to sleep downtown and rent a scooter to go to the beach and the cenotes. Our hotel, just next to the ADO terminal is recommended, we spent several nights in this hotel, the receptionist is super nice and lends the towels for the beach. Ask for a room in the back for more comfort and less noise (the last room on the 2nd floor is my favorite): Hotel Central Station Tulum, 33€ (link Booking)

in Sian Ka'an (see my article on how to go there without a guided tour: be careful, it will take you at least 3 days, 2 of which are for transportation if you go by public transport): The most economical hotel in Punta Allen with a beautiful beach is Cielo y Selva (45€, link Booking). If you are 4, choose the bungalow, more economical. If you are even more economical, there are tents on the beach, ready to welcome you for 20$/person. The wifi is satellite, electricity isn't always available (no air conditioning) – for the whole village – so take these elements into account
in Bacalar The access to the lagoon is blocked by many hotels. You have a few piers open to the public, and restaurants with piers that accept to receive you for the whole day, in exchange for a drink. One of the hotels for luxury backpackers is The Yak Lake House (Booking link), 20€/person in dormitory with private jetty and the cheapest kayaks in Bacalar.
Our other favorite hotels.
in Merida : Gamma Mérida (Booking link), central location, wifi at the top. Swimming pool, gym. Perfect for digital nomads or travelers looking for a little comfort but not luxury either. from 35€/night (link Booking)
in Xpujil Attention do not stay at the Cabanas Chaac, I do not know why they have good opinions whereas it is rotten (we preferred to go elsewhere for our second night whereas we had already paid). Prefer Gran Garra de Jaguar, 13€ (Booking link) at the same price and more central
in Valladolid : 10mn walk from the ADO terminal: Hostal Las Cruces 23€(link Booking), lots of info on colectivos tours etc. at the reception. Simple but consistent breakfast. There is a bui bui just around the corner.
Be careful, in Mexico there are many hotels with bed bugs, so type the name of the hotel + bed bugs on Google before booking
Hotels in Mexico often have 2 double beds. If you don't mind sharing the room with your friends, you should know that the rates for 4 people are only +30% compared to the rates for 2 people. That's quite a saving.
Where to withdraw money?
Most restaurants, hotels, ADO terminals accept payment by credit card, but most ruins (even the expensive ones) only accept cash (and don't always give change). You will need cash, even a lot of cash in Mexico.
Either you come with euros and do the exchange (the rate at the airport is rotten, do the exchange rather in the city, our article on the subject).
Either you withdraw with a credit card (see our article on ATM scams)
you will pay fees for the Mexican bank and fees for the French bank (unless you have an international card like Boursorama Ultim, Revolut or N26)
mexican bank fees vary a lot and are unavoidable: personally I recommend Santander which only charges 35MXN regardless of the amount of withdrawal. This is the lowest we have found. You can withdraw up to 8500MXN at a time. Santander dispensers are available in all OXXO (a convenience store).
Avoid withdrawing from a dispenser on the street – which may be fake, or rigged. Withdraw from inside banks, or from OXXOs
Do not accept the exchange rate offered by the distributor or you risk paying a 10% fee with their rotten rate
card cloning is very common in Mexico. Authorize movements coming from Mexico, but monitor your account's spending. Personally, with our Revolut and N26 cards, you can block withdrawals, online expenses and unblock them in one click. If you can, ask for a card before you leave, we tell you more about how to do it here
card cloning is common among dishonest car rental companies, so be very careful who you give your card to. What I often do is scratch the three numbers behind the card and memorize them by heart.
Tipping in Mexico
Now let's talk about tips, knowing that in 2020, 1€ = 21MXN
tipping (propina) is unavoidable in Mexican restaurants. 10% is the minimum of the minimum. 15% is the standard. 20% is for exceptional service. At the moment of payment, you give the exact % or amount of the propina you wish to leave.
in taquerias, bui bui, the tip isn't expected but highly appreciated. 5% is already very good
it is expected that you leave some change (10MXN, 15MXN) in the room for the cleaning lady, 5 or 10MXN for the person who brings your luggage back to the room.
For the excursions, it is necessary to give a little water to everyone: the driver, the guide, the boat captain etc. We leave 20MXN/person to each one.
Crocodiles in the Yucatan Peninsula
Like the sand fleas in the Seychelles and New Zealand, the subject of crocodiles seems taboo. People don't talk about it, maybe for fear that it will scare away tourists.
There are two types of crocodiles:
american crocodiles, aggressive and large.
and the Mexican crocodiles also called lagartos, shy and who flee from humans before they are seen.
There are some cenotes and hotels where the crocodiles have taken up residence. They have never harmed anyone, that's why people don't talk about them and there are no signs to warn them. But it is better to do your little homework at home before you die of a heart attack by seeing a crocodile swimming next to you.
At Casa Cenote, divers go there precisely to meet the famous crocodile. Personally, that would have freaked me out. The crocodile at Casa Cenote has never hurt anyone, people are even too happy and feel happy to come across it.
If you want to avoid them at all costs, know that there are some at Nichupté Lagoon, Cenote Car Wash, Casa Cenote, Cenote Azul (Tizimin, and not the one near Tulum), Cenote de Kikil, Punta Esmeralda, at the Akalki Holistic Hotel, and the Hacienda Tres Rios Resort & Nature Park. On the way to Sian Ka'an, when you see mangroves, don't swim there because there are American crocodiles hanging around the bridge crossing the lagoon.
Basically, as soon as there are fish, mangroves, fresh water… the possibility to have crocodiles is high. Before booking a hotel or swimming in a cenote, look for "lagarto", "cocodrilo" or "crocodile" on Tripadvisor. You are warned!
When visiting the ruins in the jungle, look where you set foot, snakes live there too. The non-venomous ones will flee you, but the venomous ones will stay there, ready to attack. On the way to Calakmul, if you come very early (6am) and without a guide, do not get out of the car anywhere, jaguars and pumas are prowling around. Jaguars are shy but hungry pumas can attack women and children (although this is extremely rare). Stay in the area of the ruins, which is safer.
---
You liked this article and read it to the end (bravo!)?
Discover our detailed 17-day itinerary in Yucatan + Palenque here (with additional stops in Ek Balam, Cozumel & Campeche), and other articles about Mexico (Yucatan , Oaxaca, Mexico City) here