Road trip in Mexico #5: Bacalar, Los Rapidos, les Cenotes & Cocalitos
To celebrate Christmas with dignity, we granted ourselves 3 full days of rest in Bacalar, near its beautiful lagoon of the 7 colors. Surprise! We are joined by two other digital nomads we met in Istanbul: Ar. and Am. (for a question of privacy, their first names will be written in abbreviation).
Note: this article is part of the series of articles of our roadtrip in Mexico. Click here to access previous articles: part 1, part 2, part 3, part 4
Part 1: Travel Diary Part
2: Practical Tips
Part 1: Travel Diary
Day 7 (December 25th)
Our nomadic friends have just spent a horrible vacation in Cuba being plucked in all directions. Exasperated, they shorten their vacation and decide to join us here in Bacalar. On our side, while I have spent a lot of time planning my program for Mexico, the overcrowding and the "tourists = street vendors" side are also starting to weigh in. I feel like I have given a lot to spend a dream vacation, to see the ratio of reality to expectation decrease day by day. And Bacalar is the ideal place to forget the small inconveniences of the past. Since mass tourism isn't yet coming here.
Phew.
When Cancun became tourist, Playa del Carmen became the new Cancun. And when Playa del Carmen became tourist, Tulum became "the new Playa del Carmen". And now it's Bacalar's turn to become "the new Tulum" ahahahha Tourist buses don't come here yet because according to Google Maps, Cancun – Bacalar would have taken 4 hours by car. And for guests who paid for a stay in an all-inclusive hotel, it is surely toomuch for a day trip.
So much the better, even if during the Christmas period, Bacalar is super crowded.
Tulum – Bacalar by bus
From Tulum, we are supposed to take an ADO bus. Arrived on the spot, we are informed 5 minutes before the departure that the bus is cancelled but that a second class bus of the Mayab company leaves at the same time. We are refunded the difference in price and it is left. The next time, we will try to come earlier to the terminal – in case an incident of this type occurs again.
La Playita
Our friends Kalokali bloggers who spent their summer vacations here and strongly recommended us the restaurant La Playita, their HQ in Bacalar. The first thing we did, after landing in Bacalar, was to head towards La Playita, take the most beautiful table and look at the lagoon.
The menu alone makes me drool. I opt for a tuna tartar (small but delicious) while JB is doing the dishes. It feels so good to have a restaurant where there are at least 2 dishes that interest us (instead of 0 as has been the case for a week). Here, in spite of the frequentation, they are super relaxed. During the meal, we sit on wooden benches. And as soon as we finished, we can put our things on these superb beautiful too fancy chairs and stay as long as we want.
Note: I mistreated my camera – which remained out of order until the end of the roadtrip. From now on, you'll have a mix of pictures taken by 2 smartphones and a sports camera. Sorry for the less natural colors than a camera. I try to choose the most realistic pictures possible
Before coming here, I didn't understand why there were so many piers, I thought it was for style. But in fact, without piers, we would all have been swimming in mud: because the part near the edge is full of water lilies and lotuses. Sure, it's very pretty but the water isn't that transparent. In addition, the piers help to better preserve the water lilies/mangroves/lotus – which contribute to the ecosystem of the lagoon.
On the left, there is a long pier with boats. To get there, you have to pay 20MXN/person, then there are huge slides, lots of restaurants, deckchairs etc. but it looks too Disneyland for me – that's why we stayed at La Playita all afternoon, waiting for our nomadic friends to arrive.
At 7pm, they finally arrive, we have a lot to talk about. We accompany them to their hostal. Then 15 minutes later, Ar. calls me "Houston, we have a problem". It turns out that their Morgan House Hostal is right next to a dance venue – the music isn't only super loud but it's going to last until 3am. They are offered ASAP to come to our hotel: Aljanna House Boutique Hotel (link Booking). In Mexico, most of the rooms have 2 double beds. And we will be able to pay the additional expenses to the owner the following day
Note: The rate for 4 people is between 30% and 50% more than the rate for 2 people. If you are going with friends to Mexico, this can be a good way to save money, instead of paying for 4 uncomfortable dormitory beds. Especially at Christmas when the rates are x2
Day 8 (December 26th)
We return to La Playita for lunch and the restaurant is even busier than yesterday. We find a superb place and we enjoy lunch. I was planning to rent a paddle directly at La Playita but the person in charge of the paddles seems to be enjoying the Christmas vacations as well. Right next to the restaurant (left side), there is a small field where I could rent a paddle for 150MXN/hour. JB accompanies me on another paddle and Ar. follows us in snorkeling.
I feel like a fish in water (it's a little dream come true, I've been wanting to do paddle for a long time) and don't understand why JB has such a hard time keeping his balance. The water in the lagoon is super calm and I manage to move forward well, up to the half of the lagoon. JB explains to me that the tall ones have a higher center of gravity, hence the difficulty to master the paddle. Well, I'm happy that my small size is helping me for once. I like it too much! Even when the boats pass by, I don't fall down. I need very little strength to move forward, I prefer paddling to kayaking. To protect the ecosystem of the lagoon, we don't have sun cream or chemicals, that's why we wear anti-UV covering clothes to protect us from the sun.
Ar. tells us that snorkeling does not work. There are no fish. This lagoon is called "lagoon of the 7 colors" because the depth varies a lot. We quickly go from a shallow area (up to the hips) to an area where we can't see the bottom at all. Being on a paddle is like being in denial – I don't realize it's deep, it scares me a lot less than if I was snorkeling. The lagoon is so beautiful that even though Am. doesn't swim, she enjoys the view from the restaurant
Well, fortunately we only booked for one hour because JB can't take it anymore. If it was up to me, I would have gone to the Canal des Pirates on the other side of the lagoon – and turned back hehehehehe
Parking Flight
Ar. notices a couple of tourists with a pale complexion in the middle of a discussion with a restaurant employee. It's about the police etc. Apparently, to go swimming, they left everything in their car trunk (including passports) and the thieves took EVERYTHING. It's a fairly common crime in Mexico, thieves take everything and sort it out afterwards. What a nightmare! The good news is that they aren't around the world and probably could have asked for a pass at least to get home. I sincerely hope they were able to block the cards in time etc.
I have heard about this type of flight in Cancun, Play del Carmen and in the tourist areas of Bacalar. Basically, as soon as the parking lot isn't paid and guarded, there are risks. This is also one of the reasons why we preferred to leave our luggage for 2 weeks at the luggage room of a hotel in Merida and travel light by bus instead of renting a car and taking it with us. In the USA also, we left all our computer equipment in a locker during our roadtrip. Our passports, credit cards are always on us in an Eagle Creek pouch. If needed, you can always leave your luggage at the ADO Terminals.
Day 9 (December 27th)
Los Rapidos
Following the advice found on the Internet (and in Lonely Planet), we are motivated to go to Los Rapidos. Here, the lagoon narrows and it creates a small current – you can get carried away by the current, it looks like fun. We take a cab (150MXN, rates for tourists instead of 80MXN for locals). Access costs 100MXN/person (always cash only). It's 10am and we are almost the only tourists. The idea is to walk up the lagoon on foot (walking on the hyper slippery tree trunks provided for) so as not to damage the false rocks (which are in fact living organisms). But I think they were so badly treated and stepped on that they are dead now 🙁
I repeat: everything that looks like rocks here aren't , they are stromatolites, therefore living organisms, do not touch them!
Then, we can put ourselves on the back and the current is going to make that we float until the level of the restaurant (there are some ropes to retain us). We do not have a buoy so we float less quickly, but we saw other tourists to put on the back, with a life vest and the spectacle is too much funny. A few hours later, tourists come with giant pink-fluo buoys ahahhaha it is too cute.
The on-site restaurant is quite affordable, between 190MXN and 240MXN the dish and 45MXN the drink. It is a 100% Instagram place. Everything is pretty, everything is beautiful, we can spend the day here without any problem. However, we have read some comments about food poisoning here – as well as robberies in the trunks – so we leave as soon as the groups arrive.
We return to Bacalar but can't find a cab. The owner of Los Rapidos proposes us to call a cab for us but it will be 180MXN instead of 150MXN (because the cab comes to us). We refuse and prefer to walk to the main avenue (20 minutes walk). On the way, we cross a dead snake… so walk rather in the middle of the road in case you come across a living snake hehe We stop a colectivo coming from Chetumal, and for 25MXN/person, we are dropped in front of the ADO terminal in Bacalar (a saving of 80MXN for 4, or 4 tacos). So, it's quite possible to go the opposite way, getting stopped where there's a sign for "los rapidos". Pay 25MXN, then walk
Kayaking on the lagoon
Our friend Karen told us that there were Mennonites (equivalent to the Amish) in Bacalar. I opened my eyes but I saw no one. Apparently, they are often seen, with very nice old clothes and hats – on the other side of the parking lot of La Playita. Open your eyes!
In Bacalar, we could inquire about the different offers for a boat tour on the lagoon:
with a normal motorboat : 250MXN/person for 2 hours – to go around the lagoon, to the cenotes and the pirate channel : Cenote Esmeralda, Cenote Negro, Cenote Cocalitos, Isla de los Pajaros, Canal de los piratas
with a sailboat: 650MXN/person for 4 hours – to make the same trip but you don't pollute the water and the tour is done without noise, without the bad smell of petrol
We don't want to pollute the water but 650MXN/person seems a bit expensive. Moreover, 4 hours on a sailboat – we risk to get bored. Thus, we leave in search of a kayak – with the pretension to make the same tour as the boats. In any case, don't book the *tours* online* because they are 3 times more expensive than on the spot!
Thanks to the power of the Internet, one of the best kayak rental rates in Bacalar can be found at The Yak Lake House. Moreover, the location is optimized because the starting point is right in front of the Pirates Canal, our first stop. The place is very "the good secret plan" because you have to ring the doorbell of a hostel. Then, we have to go to the bar and ask to rent a kayak 2 places. For only 150MXN/hour (whereas it is 250MXN/hour a little bit everywhere). You have to pay the first hour and leave 300MXN deposit per kayak. This is a luxury hostel. The dormitory beds are huge, if you are interested, here is lien Booking de l'auberge. They have a private pier and a nice bar. On the other hand, I don't know if there is a lot of noise/music in the evening.
After 15 minutes, we understand that we won't go far with the strength of our arms. We try as well as possible to go until the channel of the Pirates, by making (many) breaks. This channel is called thus because it is by here that the pirates came in the 18th century. To know where it is exactly, it's very simple: just locate the place where there are the most boats.
This place was recently shared in the program Zone Interdite on M6, which talks about families on vacation. Coming here, the mud becomes rubbery and you can spread it everywhere: it' s Mayan exfoliation. This mud contains a bit of sulfur, very good for the skin, and by removing it from the skin, there are dead skins that leave too. By getting too close, JB can't stand upright and his legs sink in on their own. It's the same effect as the quicksand you see on TV, except that it's not dangerous. However, I almost lost my sandals because it was too hard to get them out ahaha. I too fell down many times – but more because of the holes left by previous tourists.
It's only a few days after this "Mayan exfoliation" that I came across a site – which necessarily advises against this practice, oops – because it disrupts the ecosystem. By doing a skin exfoliation here, we leave the residues of our chemicals there and risk damaging the ecosystem even more – already weakened by an increasing number of tourists.
With the strength of our arms, we arrive after a long attempt until the Cenote Negro. Apparently, it is 130 meters deep. We see clearly the edge (with algae & vegetation) then it's empty.
Just looking at the picture, it freaks me out… But JB, very brave, still bathed. Here, there is no crocodile (at least not in this part of the lagoon because there are too many tourists and few fish).
What is certain is that there are two resident crocodiles at Centro Holistico Akalki. You won't run into them because the boats don't go there, it's very far from the center – and only those who stay there are likely to see them. I asked my hotel owner again and he tells me that there is absolutely no risk. Crocodiles are very afraid of tourists and they are very far from the tourist areas. But hey, a crocodile remains a crocodile. In any case, if we believe Google, no incident involving a crocodile has been reported at the Bacalar lagoon.
We have no more arms and we hurry to return the kayak. In all, we will have made 2 hours of kayak. A small rest later and we pass to see the piers at the public access to see the sunset. The public piers are closed at 7pm and we are chased away from 6:40pm….
We have dinner at a taqueria. We discover the "papas rellenas al pastor", finally a dish that we like. It is mashed potatoes with a little meat, cream and cheese on top. Very very good. The dinner only cost us 125MXN/person.
Day 9 (December 28th): Los Cocalitos, Cenote Esmeralda, Cenote Azul
We go along the lagoon to visit the cenotes that we couldn't make by kayak the day before.
But unfortunately, the access to the lagoon is completely blocked by many private hotel passages: see our nth Expectation vs. Reality ahahah
There areonly 3-4 public piers near the city center, all the rest is private land – sometimes abandoned but with barriers anyway. We are sorry about all this – you always have to pay, even here.
Note: if Bacalar ever becomes ultra-touristic and too expensive, you can go by colectivo to Laguna Milagros, which has the same blue color but the access is free.
On the other hand, some hotels are really super, super beautiful!
We pass in front of the Laguna Bacalar hotel(link Booking) and here, the kayak rental rates are even cheaper: 50MXN/hour for an individual kayak. This hotel overlooks one of the most beautiful cenotes in Bacalar: Cenote Esmeralada. To take advantage of the swimming pool and the infrastructures, you just have to eat at the restaurant
We also pass in front of Los Axules, advised on the forums. The access is free but it is necessary to consume. The dishes are very expensive for what it is and the swimming part is rather small. I do not recommend more than that.
On the other hand, Los Cocalitos is worth a visit. The access costs 35MXN/person and there are some poor plastic chairs. No umbrella or anything else. But there are hammocks and swings in the water and above all… stromatolites which are made up of thousands of bacteria. They function like a forest, absorbing CO2 and releasing O2. The first 5 centimeters are alive, the rest is fossilized. To preserve them, one should not get too close to them (at least 3 meters away) and not spread sunscreen or chemicals on them. They are very fragile, just walking on them will take thousands of years to generate. According to scientists, the stromatolites present in Bacalar are more than 10,000 years old.
Here they look like they are still alive, you can still see some mushrooms on them. On the other hand, the staircase leading to the lagoon remains too close to the stromatolites. I recommend you to come and see them, but not to swim here.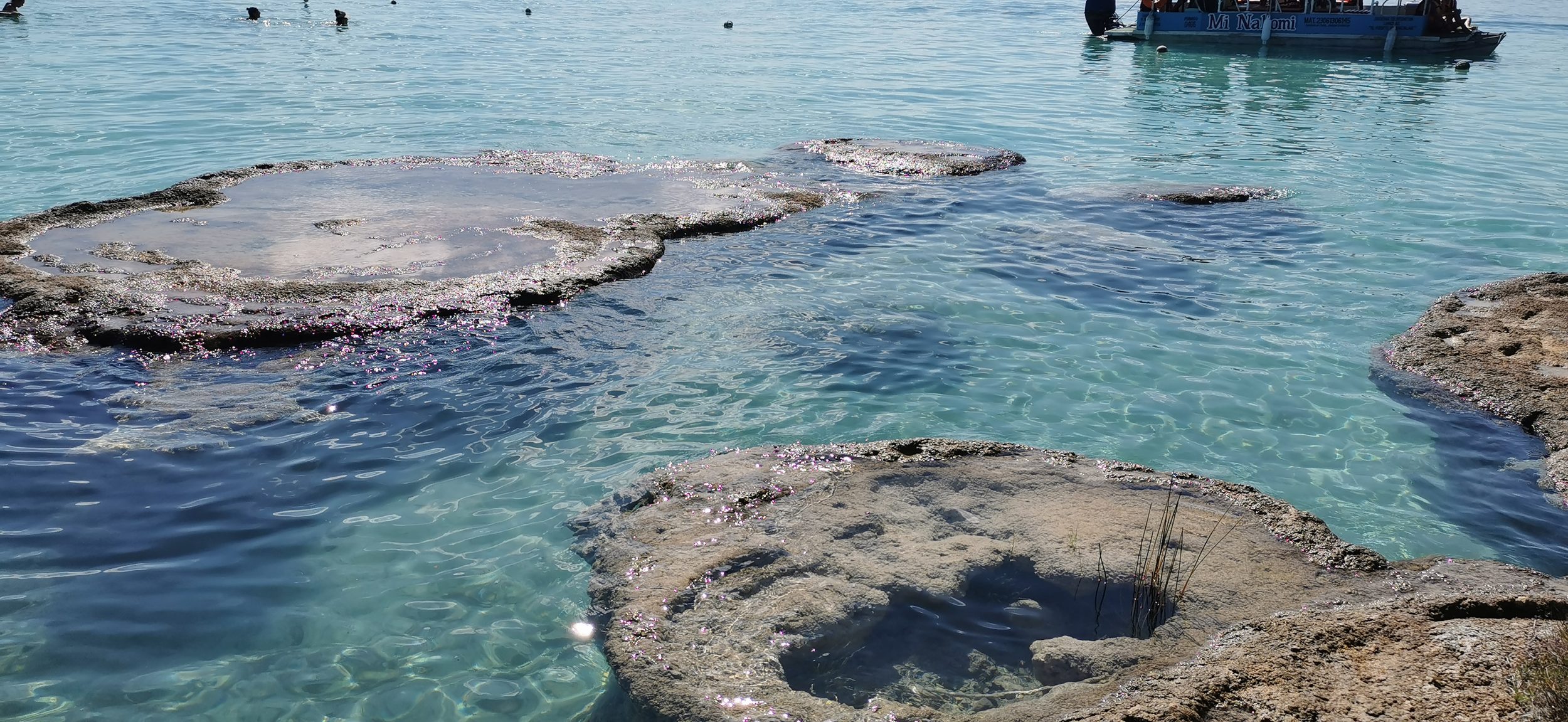 Cenote Azul
While I am close to dying of heat, we finally arrive at the Cenote Azul. Access costs 20MXN/person. We just take a drink (25MXN) the time to recover from the long walk of this morning before taking a cab towards the center (for 45MXN). Many locals come to eat and bathe here, it seems to be a more local spot.
We have lunch at Pues Si, an Italian restaurant that we find very good. It's already time to say goodbye to our Christmas travel companions.
Well, clearly, it was a mistake not to have opted for a boat – because without a boat, we only have access to a few small parts of the lagoon. However, if possible, opt for a sailboat, or a kayak, or a paddle… so as not to pollute the water. Let's try to preserve this beautiful blue color!
Our bus to Chetumal is cancelled again. We have to take a colectivo just in front of the bus terminal. Then another bus from Chetumal to Xpujil.
To be continued…. the continuation of our adventure in Calakmul
Part 2: Practical Tips
Access to the lagoon
Piers with public access: type Balneario Municipal El Aserradero and Muelle Mirador Publico de Bacalar or Muelle Ecologico on Google Maps. These are the 3 free accesses to the Lagoon. However, please take care of your belongings, there are no lockers on site.
Paid access or with consumption: we warmly recommend the restaurant La Playita and Cocalitos
or simply choose one of the many hotels with private access to the lagoon
How to get to Bacalar?
The closest large tourist city to Bacalar is Tulum. Here are the bus schedules between Tulum and Bacalar: 00h05, 01h50, 08h35, 09h45, 10h35, 12h05, 13h05, 13h35, 17h05, 20h35, 21h05, 22h24, 22h45. Duration: 2h50. Rates: 292MXN. Attention, these ADO buses are very often cancelled. In this case, there is a Mayab second-class bus that leaves at the same time. Come to the terminal 30 minutes before and ask systematically if your bus is maintained.
If you come from Belize, you can go to Chetumal and then take one of the many buses (or colectivos) to Bacalar
You can also go to Bacalar from Merida (this is the case of our two nomadic friends): 00:15, 07:30, 13:00, 14:45, 18:00, 23:45. Duration: 5h05. Rates: between 285MXN and 524MXN
How to leave Bacalar?
For Chetumal : several colectivos leave every 30 minutes on the other side of the street (last departure at 4pm), just in front of the ADO bus terminal in Bacalar
For Chetumal : you can also take an ADO bus, timetables are available online. Be careful, these ADO buses are very often cancelled. In this case, there is a Mayab second-class bus which leaves a few minutes earlier. Come to the terminal 30 minutes before and ask systematically if your bus is maintained
For Xpujil : there are only 2 buses which leave very late. I advise you to go to Chetumal, then take a bus to Xpujil because the departures to Xpujil from Chetumal are more numerous (6 departures per day) (I talked about it here)
For Tulum : several colectivos leave every 30 minutes across the street, just in front of the ADO bus terminal in Bacalar
For Tulum, Campeche, Merida, Palenque, Playa del Carmen … you can take an ADO bus, timetables are available on line
How do I get to Los Rapidos?
Either take a cab (150MXN, 180MXN return)
Either take a colectivo (in front of the ADO terminal) in the direction of Chetumal (it passes every 30 minutes). Go down when you see the sign Los Rapidos and walk for 20 minutes (walk in the middle of the road because there are some snakes)
Try to come before 11am.
How to get to Cocalitos ?
Either walk (but the road is really not cool because the view is blocked by private properties)
Either pay 40MXN by cab
Access to Cocalitos is subject to a fee (35MXN/person)
Budget
Transportation :

Tulum – Bacalar (ADO bus) : 292MXN (or half price if you take the Mayab company)
Bacalar Taxi – Los Rapidos: 150MXN
Los Rapidos – Bacalar en colectivo: 25MXN
Cenote Azul – Bacalar by cab: 45MXN
Bacalar – Chetumal (colectivo) : 50MXN

Lodging :

very close to the ADO terminal, very nice accommodation, terrace with hammock (sometimes the hammock is in the room), there is an OXXO next door: Aljanna House Boutique Hotel 52€ (link Booking)
more central, but less pretty, restaurants in the surroundings, access to the terrace: Hotel Szapot 29€(link Booking)
Deluxe backpackers hostel with private jetty, nice bar and cozy beds: The Yak Lake House link Booking

Renting :

Paddle: 150MXN/hour (left of La Playita restaurant)
2-seater kayak: 150MXN/hour (at The Yak Lake House): ring the bell and go to the bar to rent the kayak

Food: count 125MXN for a taqueria meal, otherwise 220MXN to 300MXN/person minimum in restaurants
Other articles
Road trip in Mexico #1 : Chichen Itza, Cenote Ik Kil, Valladolid, Cenote Zaci, Ek Balam, Cenote X'canche
Road trip in Mexico #2: Cobá, Mayan Ruins & View from the top of its pyramid Nohoch Mul
Road trip in Mexico #3: Tulum, Playa del Carmen & the Cenotes (Car Wash, Gran Cenote, Xunaan-Ha, Cenote Azul, Cenote Suytun)
Road trip in Mexico #4: Sian Ka'an, Dream Beach, Dolphins & Turtles
Road trip in Mexico #5 : Bacalar, Los Rapidos, les Cenotes & Cocalitos
Road trip in Mexico #6 : the Ruins of Calakmul, at the end of the jungle
Road trip in Mexico #7: Ruins of Palenque, Misol-Ha and Agua Azul Waterfalls
Road trip in Mexico #8 : Campeche, Ruins of Uxmal & Merida
Oaxaca and surroundings :
Mexico City and surroundings :